After six years of studying geophysics, Mathew realised he was fed up with working to make other people's dreams happen. A holiday back to his family's roots in Italy led him to enrol in gelato university, and shortly after, he opened Perth's Pietro Gelateria.
One thing I wish I knew
Sitting outside Pietro Gelateria one day, Mathew overheard a conversation between two strangers that put some of his challenges into perspective. And, perhaps more importantly, reminded him how important patience is to success.
"I was just thinking about the importance of patience. Understanding that things take time. A while ago as I was sitting outside the shop having lunch and people were wandering by going into the shopping center. We'd been open for about nine months this stage, and someone walked by and said to their friend, 'Ooh, this is new! We haven't checked that place out yet.' As a business owner, I sat there and was thinking, we've been open for nine months and you haven't seen our shop. It's no wonder so many restaurants shut in the first six months –  for everyone else, six months is still "just opened". For the owner, that's the hardest six months, and pretty much makes or breaks you."
Life before gelato
Mathew has worked in hospitality since he was 14. Before jumping into the gelato industry, Mathew studied geophysics, worked as an Uber driver and research assistant. After working so long in hospitality, he was becoming restless – looking for a bigger challenge.
"I did a bit of everything. Yeah I drove Uber for a bit. I've always worked in cafés. When I was doing some geophysics work I did some explorations out in the middle of nowhere, including a six-week stint. So these guys kind of go out and explore certain areas for minerals before the drillers get in rather than just drilling anywhere. So quite often it's in the middle of nowhere with no phone reception and just camping in the desert – out with the kangaroos, which I find I enjoy every now and then. But when you have a life back in the city, it's kind of hard to not miss that."
From high school student to geophysics explorer
After finishing high school, Mathew describes his path as winding. He didn't know what he wanted to do for work and after some contemplation decided to take on a geophysics degree.
"I'm 30 now, and when I left high school, I had no real idea of what I was going to do. I spent a few years just working in fast, casual jobs – managing dining areas and stuff like that before I decided to go to uni to study geophysics. So I studied sometimes full time, sometimes part-time, over six years. When I finished uni, it was pretty much the start of the downturn of the mining boom. And because the work I was doing was explorative and prospecting, it was one of the first jobs to feel the pinch."
Seeking the next challenge
Despite investing six years into his degree, the isolated nature of the work, as well as the increasing job scarcity care of the mining downturn, Mathew turned to hospitality looking for the next challenge.
"I've always had a job since I was 14, so I had to work. I was managing another restaurant back then. I did it for a while, realized I probably wasn't going to find another job too quickly in geophysics and realised I was sick of making money for someone else. I wanted to do something else. But I'd never really wanted to get too much into the food business which is ironic now.
I guess I thought that if I was managing someone else's company I just wasn't reaching my potential. I had already worked out how to work for someone else, so the next challenge was more about doing something more – something for myself. I guess starting my own business was about taking on a bigger challenge."
Returning to Sicily's sweet source
Mathew's resistance to getting deeper into hospitality seemed to be more of a subconscious reluctance. Running a food restaurant didn't appeal, but as he explored his passion for gelato, an idea began to form. The tipping point was when he tapped into his Sicilian roots and began considering gelato.
"So, the other side of this story is my grandparents are Sicilian, so I've travelled there a few times. I always liked ice cream in general, I just kind of I always do ice cream. And I always found it was much better in Italy than anything I'd ever eaten here. I had kind of that I guess amateur kind of interest in it. I'd been given a couple of books over the years and learnt some recipes and played around with different ideas.
One of those books ended up igniting an idea to explore the professional side of it – the equipment I'd need. One of the equipment brands I looked into had a course in Bologna, Italy. About six months before I was due to go to Italy for a holiday, I saw one of their courses taught in English was actually starting the day I was meant to leave Italy. I thought about it for a few weeks 'cause I thought it was quite expensive. If I was going to do the course, I thought I would definitely have to do something with it. We'd seen Sydney and Melbourne create some strong gelato offerings in the last 10 years, but Perth hadn't quite got on yet."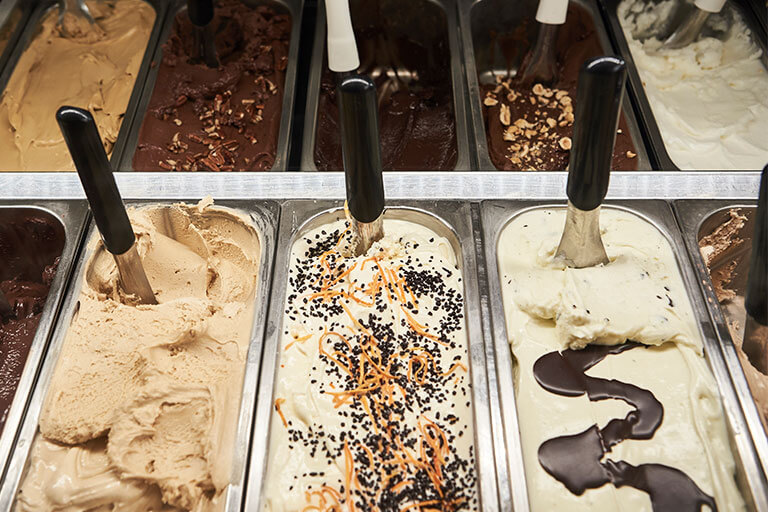 Back to school – gelato university
So Mathew took the plunge and invested in the course and enrolled in gelato university. He didn't know what to expect, but he'd committed and went over with an open mind and was not disappointed.
"It was theory in the morning and practical in the afternoon. It taught us a very artisanal style, it was very science-based and making sure recipes are balanced. It was run by serious professionals people and I still use what I learnt. So it was invaluable going there."
Rolling work experience into business experience
Mathew's used his experience in hospitality to guide his decision-making process as he set up his business. He understood his customer's needs and the best shop design to make the staff's job easier, and the importance of well-designed free-flowing movement for both.
"I've worked since I was 14, and I've worked my way from the bottom up. There are lots of things that you need to get your head around when you start a business, but even the little things like health and safety, and revenue targets were kind of already ingrained in me.
My experience in hospitality helped with the planning and operations too. I knew that if we put the counter there it wouldn't work because of customer flow – I wanted customers to walk in and know exactly where to go and what to do. I also wanted to keep the operations super simple so staff don't need a degree to figure it out. From there it was just kind of fine tuning things I could see straight away weren't working after we opened. That was all from my experience working in hospitality."
No time for doubt
Although Mathew had already set up an ABN, paid and completed his gelato degree, and returned to Perth, it wasn't until he signed the lease of his shop that Pietro Gelateria felt real for him. The prospect of paying the rent stirred the nerves and excitement.
"I worry a bit internally but I'm pretty cool on the outside. Once you make the decision to do something, you've just got to go for it – you're always gonna doubt something. I'd say I'm a safe risk taker. I take risks but I try to plan for the risks in things – there's always gonna be a reason not to do it, but that shouldn't hold you back. If you've thought through it and you think it could work, it's gonna work and there's no reason to doubt the steps to make it work."
Getting settled
In Perth, the Swan River splits the city into north and south. Mathew says there's usually no pressing need to cross the river unless you're visiting someone. Everything you need in terms of eateries and shopping you can find on either side. So when he noticed a few competitors opening up north of the river, he wasn't too worried.
"There was a few other gelato shops slightly north the river, but there was nothing south. So I decided to look for a shop in the south. About 10 minutes south of the city there's Victoria Park which has one of the longest restaurant strips in Perth so the aim was always to hit up that. But trying to find a premises on the strip itself was quite difficult. We found a shop on the outside of a shopping centre on the same road, but down a bit from all the restaurants.
The strip has quite a big nightlife – daytime trade is minimal compared to the night. And that's kind of what attracted us to go there – we wanted to capture that post-dinner crowd."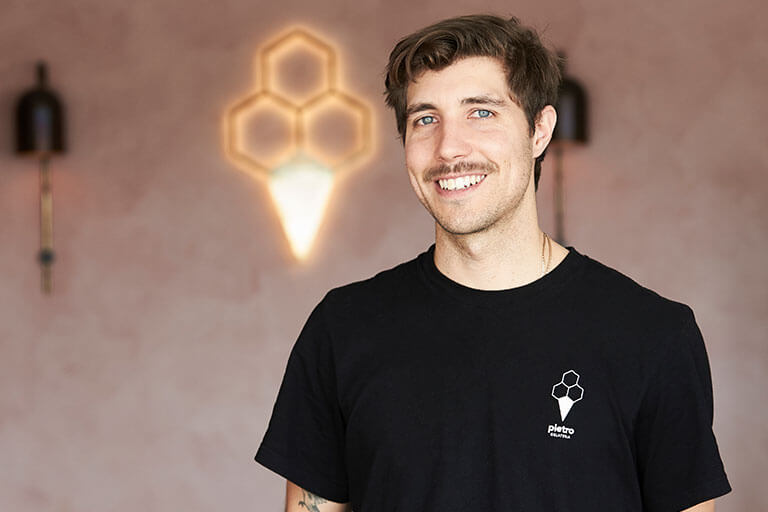 A wintry warm reception
Thanks to a catastrophic muck-up, Pietro Gelateria's opening was pushed back from summer to late autumn. But it could've been worse – it could've been a Melbourne winter. Fortunately, the opening day was a roaring success.
"We had a really big opening day. We offered $2.00 gelato scoops and that was a huge success. We didn't do a massive advertisement outside of the shop itself. And after that obviously, we opened in may so we were heading into winter and obviously because we were still a new shop, we didn't have the pool of regular customers to pull from straight away.
It probably took eight months to get traction. From our opening day we had great feedback from the customers and for me, that was the biggest win. If everyone loved the product and our service was right, I knew we'd be fine. I thought a month or two, maybe three months of really hard work and we would start to grow. And seven months later, going into summer and Christmas, we were doing alright, but we weren't really taking the positive leaps I was hoping for. It wasn't until almost February this year that we really saw some consistency in our sales."
Experimenting to grow
Mathew's approach to marketing is to let his product start the conversation and do most of the talking, and it's worked. He attributes most of his growth to word-of-mouth referrals, and has worked out a strategy to help that continue.
"We've grown a lot thanks to word of mouth. I knew everyone was loving the product so I thought that kind of thing would just spread. We try to leverage social media because it's quite an easy platform to get a lot out of. One of the things is we create new flavours all the time. Most weekends we bring out a new flavour so we can share that on social media to kind of get people talking. Every now and then we'll do a small promotion, which is great at getting people through the door and the product in their hand."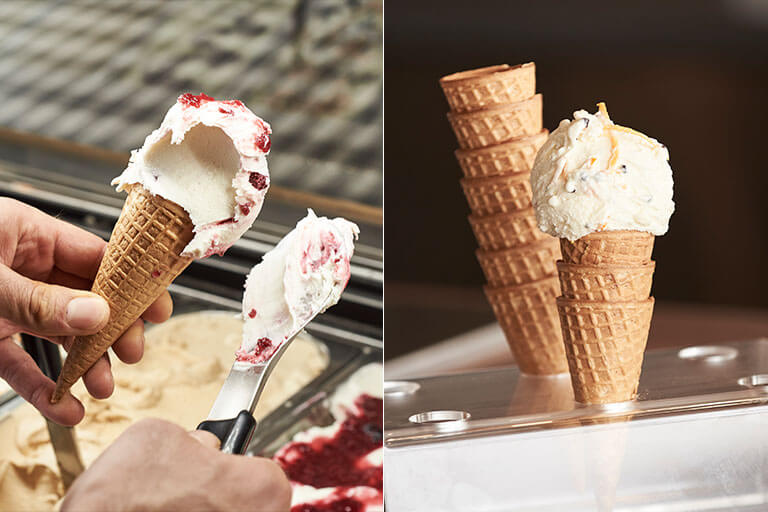 The methodical madness behind the gelato
Coming up with new flavours every week sounds like a daunting task, but Mathew's long-running passion for gelato has helped him expand his mind to some unusual possibilities – like the relatively untapped potential of cauliflower as a desert flavour.
"I take inspiration from standard flavors that just work, but other times I may see a savory dish that could work sweet and we kind of play around with it. For example, we do a cauliflower with orange and pistachio and that kind of came out of the idea that cauliflower could work sweet. And when we made it up and tested it ourselves and then gave our customers some free samples to test and review."
The strategy of quirky flavours
Pietro Gelateria's unique flavours aren't about selling hundreds of tubs. For Mathew, it's about keeping people interested, and offering customers a unique experience and something they can talk about with their mates.
"We're modelling ourselves on the old aspect of an artisanal maker who would always have new stuff for you to try. Not like a factory that pumps out the same thing over and again. We're always making something different, and customers are free to try it and not even buy it – it's about providing that fun aspect to the experience."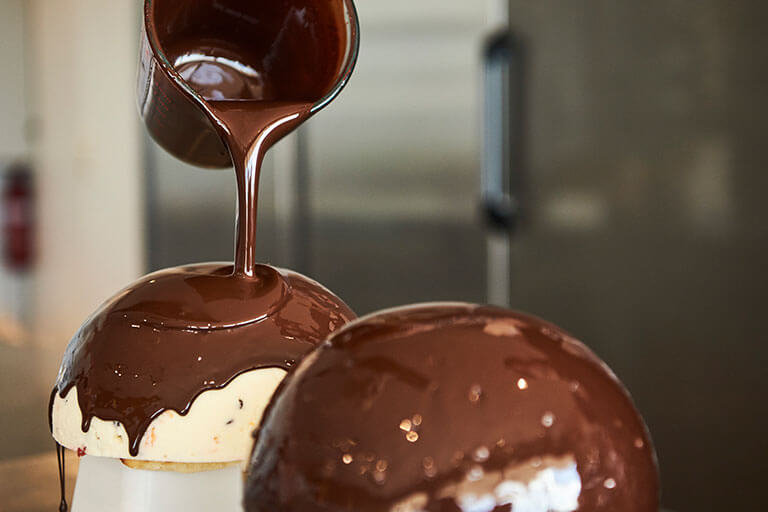 Back your product, or make it better
Mathew describes himself as a harsh critic, and he holds his gelato to these same high standards. If something's not quite working with a recipe, he will keep reworking it until it does work. And because of this critical scrutiny and constant pursuit of improvement, he can stand behind his product knowing it's top quality.
"I'm a pretty harsh critic on myself and the gelato we make gets the same treatment. I've adapted and developed recipes and flavours that I'm pretty happy with. And so when I see other people enjoying them, that's when I knew the product was solid and we were doing fine in that aspect and it was only a matter of time for sales to increase and the business to grow."
Hardships maketh the gelato
Mathew's growth and success hasn't come easily. He's invested himself heavily into the business and worked 7-day weeks for the first six months so he could keep address challenges and make changes quickly. Since then, he's pulled back and is working towards a better work-life balance, but running your own business is always challenging.
"It's just hard work sometimes. Being in the shop all the time and fighting through day by day. It sounds like we were absolutely struggling – we weren't – there were still people coming through, but when you've invested in the set-up costs and you need to pay staff and all those overheads like that and you're just making it, you have to do what you can until you can get ahead financially. And I guess that's probably one of the biggest challenges in starting a retail or hospitality businesses – there are so many hours spent inside the shop. In hospitality, you have to keep the door open."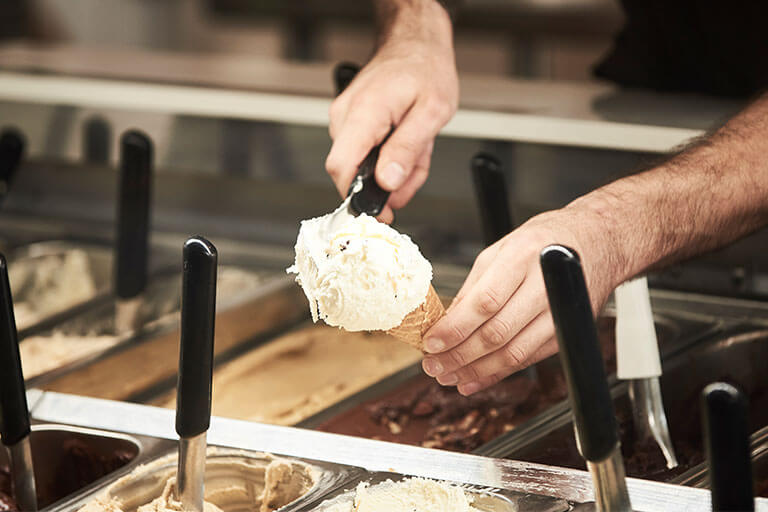 Setting goals to measure success
A slow start was challenging for Mathew. It made him question his decision to start a business, but his faith in patience held true and steered him well.
"I gave myself until February to analyse and review our business position. And February rolled around and that's probably when we started gaining traction. It was obvious we were growing, although a bit slower than I expected. But yeah I could see that it was getting somewhere and steadily trending up."
Mathew says the next challenge for him is diversifying his offering and assessing the scalability of his business. He loves a challenge and is always looking for the next one to take on.
"I think I'm always looking at improving and how we could make our offering better – more products and different products are a big focus for me. At the moment I'm also looking at scalability of the shop we're in and it's a decent size for what we need at the moment but it probably doesn't have the capacity to push our much more. And from the sales side I'm looking at that and what we do from there. So yeah I'm always thinking about the next one challenge. Tick one checkpoint and move onto the next"
How to find decent staff
Hospitality has a famously high staff turnover rate. So finding reliable staff is an ongoing challenge. Mathew trusts his instincts when interviewing new staff and has had decent luck with finding quality staff.
"We started off with a couple of staff that we knew and a couple of friends of the staff that we knew so that's always easy – I find that if we hire friends or their friends they usually work out pretty well. I like to think that I have a pretty good knack for hiring decent staff just by reading through resumes and getting first impressions from them. I think this year we acquired three or four new staff."
Delivering a double-scoop of efficiency
Mathew's experience in hospitality has honed his eye finding ways of working smarter rather than harder. When he took on food delivery platforms earlier in the year, it changed his operational model.
"We've got a really small shop and our service model is deliberately simple. Because we were quieter to begin with, I realised that if we get busier the shop will need to change. So, for instance, we took on some delivery platforms in the last five months and they've been quite busy just before winter started setting in.
And we usually run with two staff even on busier nights. But once the delivery platforms came in, they shook up our operational model. So straight away I could see that okay, when we're this busy or busier we need a third person on. So I think a lot of the time it's just small increments that I can change."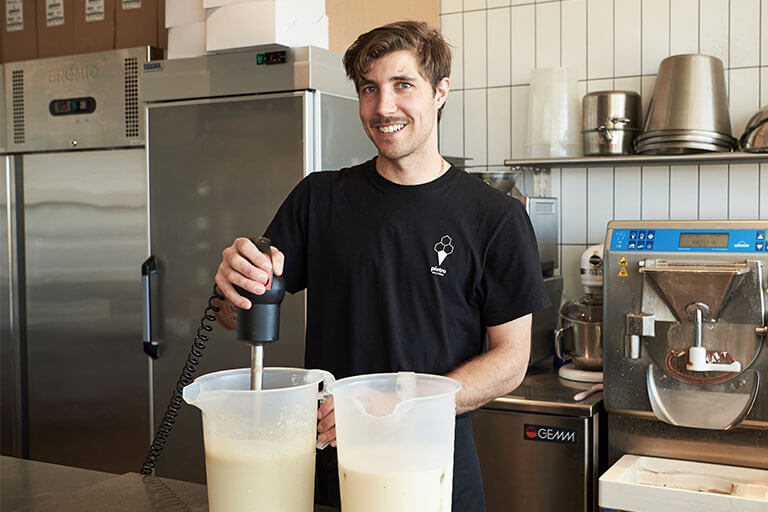 Scaling back for smarter growth
Mondays aren't for everyone, but now, Mondays are for Mathew. Despite his concerns about slower than forecast growth for Pietro Gelateria, he realised there'd be even less growth if he burnt himself out any more working seven days a week.
"Yeah I think I would like a little better balance, but I guess that's always the case in a way. I now work six days a week and to get a bit more time off out of the shop would be great, or even just having some more time away from the shop to be able to focus on a few extra things. My wife encouraged me and so we recently started closing on Monday nights. There's no way I would have been able to run seven days for a whole year. It just would have burnt me up.
Once we hired the gelato maker to work on Mondays when I'm not there, we were able to reopen again. Being open seven days was essential, it simply wasn't in my capacity to do it on my own. So now I get one day off and it's a lot easier. I try to make sure that when I come home I'm not doing too much work on the business."
Future plans
Mathew's progress from reluctant geophysics explorer to gelato business owner has seen him overcome his initial aversion to running a hospitality business, and embrace its challenges. As he continues to introduce more work-life balance, he's also thinking about the next challenge – scaling and growing.
"I plan on scaling the business at some point. At the moment, the focus is on trying to work out how we can get more out of our one shop. And then also how we can set ourselves up to possibly expanding into more shops."
If you enjoyed this, you'll enjoy reading Mathew's candid story of the worst catastrophic muck-up he's experienced.