Some of our better ideas come out of chats around the table with family and friends over good food and a couple of drinks.
The BBQ Store is one of those ideas, with a bit of a twist. In owner Gabriel Gewargis' case it wasn't the conversation, but the setting, that really got him thinking.
"I've always grown up with souvla at family barbeques and one day I was just watching the barbeque turn in the backyard and turned to my dad and brother and said, 'I think these would sell well online, I haven't seen them anywhere online'," says Gabriel.
"My brother and dad said, 'that will never work' because it's one of those barbeques with the raw metal that doesn't really look refined."
Gabriel just had a hunch he was onto something good. Initially, at least, the product didn't need to be slick, it just needed to be unique.
A day to remember, Gabriel's wedding anniversary was the beginning of his business journey back in 2008. Between him and his wife, they came up with the name 'Cyprus Grill', then they bought two barbeques, sold them online and the wheels were set in motion.
"We said, OK, well those two have sold, so we bought four, sold them, and it just kept growing and growing – it was all very natural growth," remembers Gabriel.
"I was working full-time in a different industry altogether, property services, as an account manager. My wife had a baby at home, she was packing boxes and booking couriers online, doing this as a side job and it sort of just evolved from there."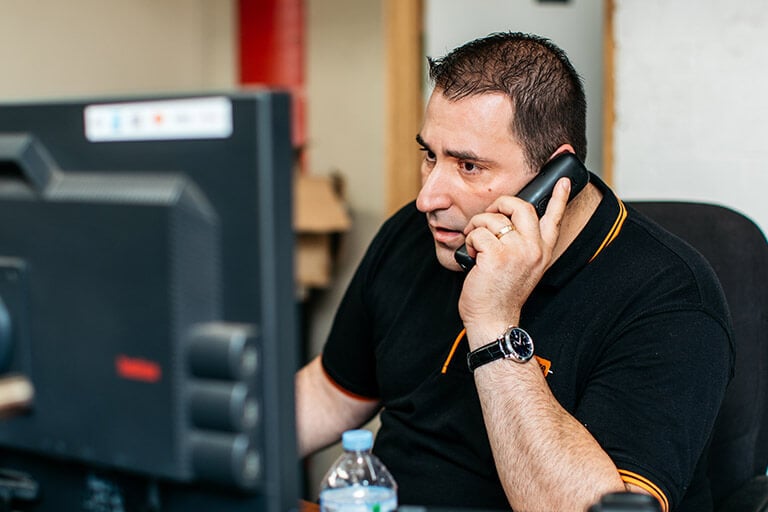 Making the call
In the beginning, Gabriel was a sole trader, focused on getting traction rather than following a specific strategy. He didn't set out with a detailed plan, other than to sell barbeque products online, so he remained open to new ideas along the way.
They say showers, long walks and other time spent idle can inspire lightbulb moments. After speaking with Gabriel, we'd like to add watching television to that list. Gabriel found one of his best-selling products on TV, not in the infomercial kind of way. He was watching the reality show Dragon's Den, the British answer to Australia's Shark Tank, and heard a pitch from Ed Wray, the designer of the BarbeSkew. A self-turning rotisserie, the BarbeSkew had been pitched as 'the most innovative BBQ on the market'. Gabriel knew he needed in on it. He made the call.
"It was like the Cyprus Grill but with side tables, a trolley and more, so I got in contact with Ed over in the UK and he said he loved the product, had one over there and that's actually what inspired him to create the BarbeSkew," says Gabriel.
It wasn't long until Gabriel became the Australian distributor of the BarbeSkew. Gamechanger. Gabriel decided it was worth sticking with the charcoal-rotisserie model, next bringing Gasmade products into his range. Most Australian households 10-12 years ago were still cooking on gas, Gabriel observed, but appetite for alternative barbeque products was starting to grow.
Now he was really cooking with gas, Gabriel registered the name, The BBQ Store, and started trading as a proprietary limited company. He saw value in creating an umbrella company, where Cyprus Grill and The BBQ Store were brands, thinking he could branch out from there. Still working the 9-5, it was a lot to take on.
"It kind of got to the point where I'm using my garage and most of my bedrooms in my house, my parent's garage, my uncle's farm on acreage out at Bringelly where I was putting containers on his property, driving there, coming back after work to pick and pack boxes… I was so busy, working day and night, I needed to bite the bullet."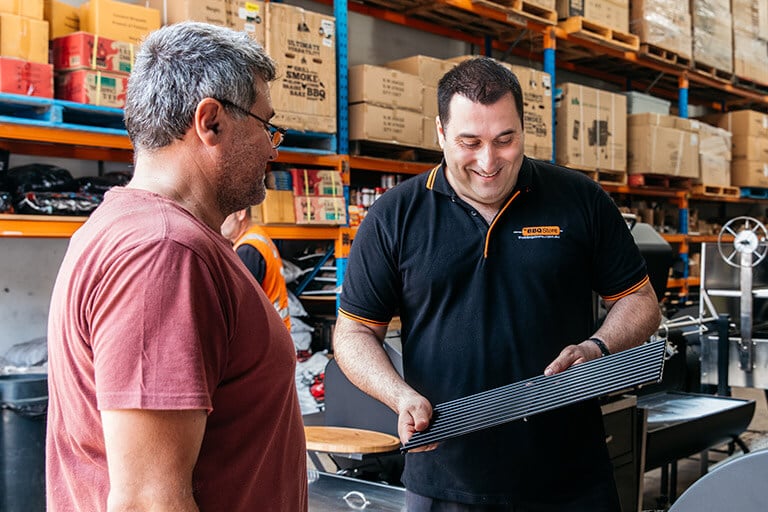 A chance meeting
One particularly long day became a very long night, turned into morning, and Gabriel decided it was time.
"How it happened, I had a truck delivering a container and it was just after we had a big storm, it got stuck on the farm, and I had to hire another truck to tow the truck out of the farm," Gabriel recalls.
"It was 5 or 6am, a total nightmare, I had to get home and go to work but here I was stuck trying to get the truck out of the property."
Gabriel pitched the idea of working part-time to his boss, who went for it, on the basis he was still really good at his job and a split week was better than split-focused days — "to be honest, it didn't last long".
Gabriel bootstrapped the business until a chance meeting with Moula co-founders Aris Allegos and Andrew Watt, bumping into them after a business pitch at the PESA Internet Conference (common theme, noted). Even better, Gabriel also picked up a couple of business tips at the conference that went down a treat (we'll get to that soon).
It wasn't long before Gabriel had leased a warehouse, which may have been 'a little early', but it didn't take long to fill the space. Stock started spilling out into Gabriel's brother's warehouse, filling his parent's place, and before he knew it, The BBQ Store had signed the dotted line on a second warehouse.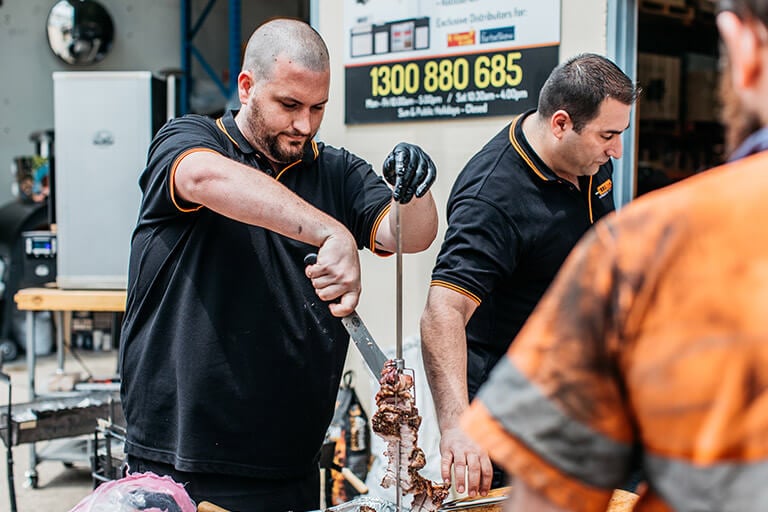 The 'Kaizen' way
Let's take a few steps back — firstly, that conference. It marked a turning point for The BBQ Store, and Gabriel had a couple of aha moments while he was there.
"Someone made a throwaway comment about finding where most of your sales are coming from and focusing all your energy into that," says Gabriel.
"Putting all our eggs in one basket counted for a lot of success in the early days when we were just a husband and wife team trying to do eBay, other sales channels, advertising, marketing, everything — it was only after we focused on eBay that I could leave my day job."
Streamlining products and processes is good advice for someone starting out, especially if you're naturally more risk averse (nothing wrong with that). Another nugget, Gabriel says, protect your intellectual property.
"My biggest regret in the business, when I first came up with the name The BBQ Store, I should've trademarked it," Gabriel goes on to explain.
"I ended up in a trademark battle for five years with a larger company than myself who came into the market a year after me. They've closed down now, but they called themselves The BBQ Store too. It was very messy and stressful, I spent over $100,000 fighting it. I'd registered a proprietary limited company thinking that would stop people from using my company name, but no, trademark trumps that. Protect your IP. It's a big one for me."
There's always going to be tough times. Take the GFC, when Gabriel sold his house so he could afford a container for his business — touch and go, he admits, especially when the banks "don't want a bar" of what you have on your books in the absence of a residential asset.
But, we keep moving on. Or, 'Kaizen' as Gabriel likes to think.
"As business evolves, things change. I believe in the Japanese philosophy of Kaizen, 'continuous improvement' — make mistakes, as long as you learn, and keep looking for ways to do things better."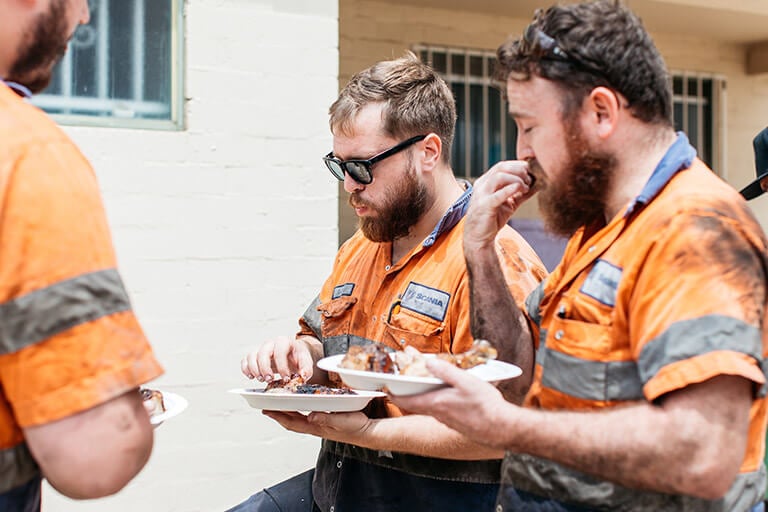 Getting through dry spells
That's Gabriel's approach to any threat in business, and there'll always be something. It's what got him through a recent dry spell during the 2019-20 Australian bushfire season.
Following a record October, strong November and early December, Gabriel says "the tap turned off" just before Christmas.
"We've had a triple threat, really. Droughts, which caused meat prices to go up. Fires, no one wants to be outside in that heatwave. And even if you did want to go outside and BBQ, you couldn't, because you had total fire bans in some areas," he adds.
"A bit over a month it generally affected business, absolutely. Because I'm an importer, I'm ordering six months of supply in stock I have to pay upfront in advance, it got to a point where I took out a Moula loan to cover the stock coming in."
That, the Kaizen way, and diversification have played important roles in mitigating risk for The BBQ Store, a business in its early days that was all about charcoal and rotisserie cooking. Starting with a Cyprus-style product, Gabriel keeps evolving his range, embracing the idea that tastes evolve and sometimes change.
Many of his suppliers have seen demand rise quite significantly for charcoal barbeques, or what's called the 'solid fuel' market. Gabriel says the 'low and slow' American smoking culture has also really taken off in Australia, and Italian pizza-style ovens too.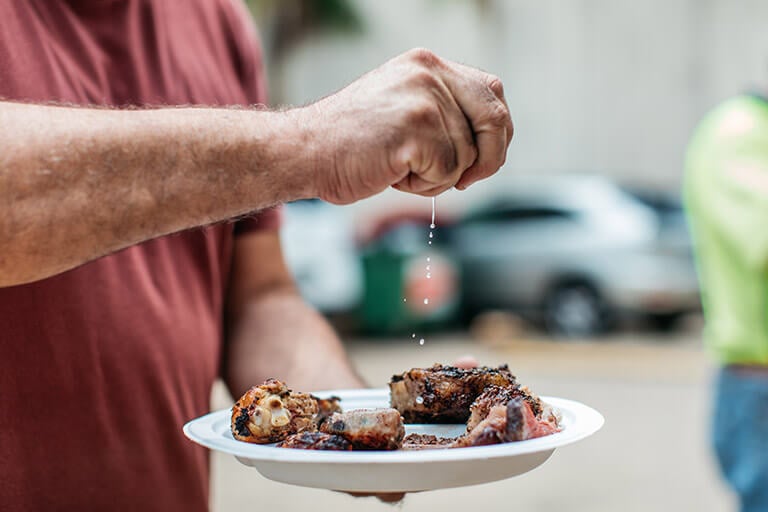 A multicultural approach
The barbeque may feel 'quintessentially Australian' but there's no such thing as a classic 'barbie'. That's the beauty of it. Tracing it back, it was southern European immigrants like Gabriel's family that normalised barbequing in Australia post-WWII, with the barbeque now so entrenched in the Australian psyche it has become a feature of our much-loved public spaces.
But, if you ask Gabriel, there's no place like home. It was where he dreamt up his business idea, after all. Barbeques at home have a particularly special way of bringing loved ones together in a homegrown setting.
"We're so multicultural in Australia," Gabriel says proudly. "I want to bring the cooking cultures of the world under the one roof so no matter what your background is you can find the tools you use back at home in our store."