Breaking free from a parent company to become a business leader in his own right, Michael Toweel has mastered the craft of sizing up opportunity.
In his time at the helm of VitrineMedia Australia, Michael has built up a client base that stretches ASX-listed clients to the nation's biggest property groups. If it's a retail or real estate storefront on a high street, chances are, it's powered by VitrineMedia.
Michael took the opportunity to head up VitrineMedia Australia in 2012, as an Australian subsidiary under a French parent company, focused on selling LED display screens and signs. While he experienced success as a subsidiary, as the years went on, Michael felt ready to take the reins on a new opportunity. 
"I thought we had a whole lot more to offer as a wholly-owned Australian business," explains Michael. "In October last year, we bit the bullet, and said, hey, we'd like to buy the business and distribution, and that's where it really started."
"It was hard to break away from the parent company and lose the safety net of having their money behind us, and now it's my money, my life, attached to this business. But I felt confident and passionate enough about the business, and knew it would work."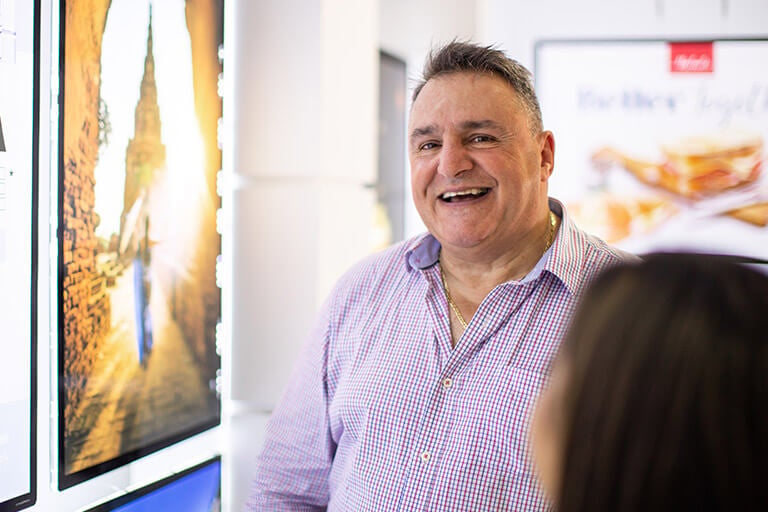 Achieving lift-off with Flight Centre
Michael had a track record for taking an idea and making it work. All he needed was a bit of momentum on his side.
From the age of 12, he worked exclusively in sales, from menswear to the motor trade, honing his craft under the mentorship of his uncle – "the best salesperson I've ever, ever seen in my life". 
In sales, and business, as he later learnt, you gain momentum by leaning into the little tailwinds. Or, as any sales pro knows, turning a potential headwind into a tailwind. 
Michael mastered the latter when faced with copycats in the early days with VitrineMedia. Competitors were importing knock-off LED products, which would often fail at the six-month mark. He needed to make a distinction. 
After deciding to personally remove the imitation product from other stores, he then offered the potential customer 50 per cent off – keeping his good name, while building up the business.
"One thing I've always been a proponent of, when times are tough, and when the market is tough the way it is today, that's the best time to grow your business and make your mark on your space, so when the market turns – and it will turn – you will be that far ahead in brand awareness," says Michael.
The strategy paid off, with the right people taking note. Soon after, VitrineMedia landed a contract with Flight Centre to supply LED displays across more than 600 stores. 
"The Flight Centre contract was absolutely massive for us. It was huge. Apart from the value of the contract, it gave us an amazing profile," he says.
"One of the biggest travel groups, globally, had done their due diligence and decided – hey, VitrineMedia works best for us. That was the launching pad for many other retail areas we've gone into, like Retail Food Group stores and Clear Skincare Clinics."
Flight Centre was the vote of confidence that VitrineMedia needed – in Michael's words, "we would've survived without it, but we would've struggled".
The contract provided a flight path for the business, but it didn't come with the promise of clear skies ahead. Scaling up created an entirely new set of challenges for VitrineMedia.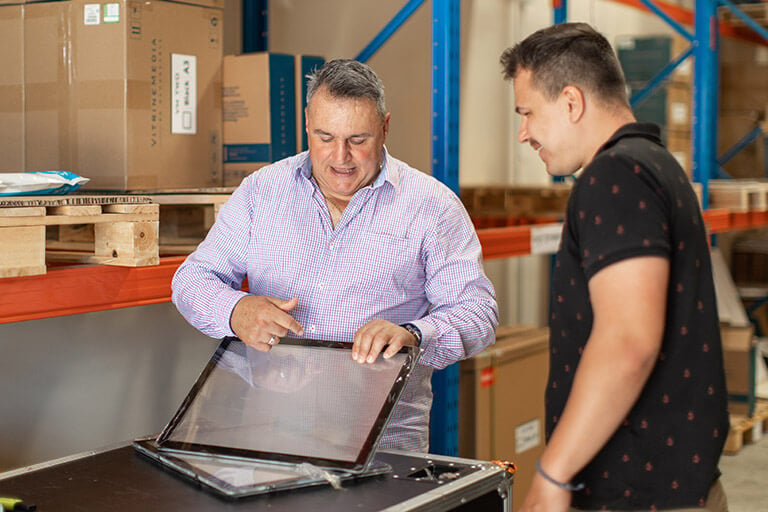 'Short-term help for long-term gain'
Cash flow, as any SME knows, ebbs and flows, especially in businesses that are reliant on contracts, and at the mercy of traditional trade terms. How can you realistically forecast revenue, and effectively manage your inventory, when you can't accurately anticipate purchase orders? In the absence of a crystal ball, Michael needed another solution.  
"In the early days, as a subsidiary, our trade terms were really lenient – 120, 150, 180-days, and the rest – so we could invest in huge amounts of stock and stagger the payments very comfortably," says Michael. 
"When I took over, that was the first thing that changed – everything became a 30-day account, with 50 per cent required upfront, then it became 80 per cent upfront. When you're getting a $100,000 container every six weeks, it can get a little tight."
Michael got a business loan from Moula, so he could keep growing his business without straining his cash flow. He sums it up as: "Short-term help for long-term gain". 
"One thing I've got to say, you can't grow your business by shrinking it. You can't stop spending and hope to grow your business, It just doesn't work like that. You've obviously got to be smart with where you spend your money, but have to look at your ROI, and have to spend in order to grow."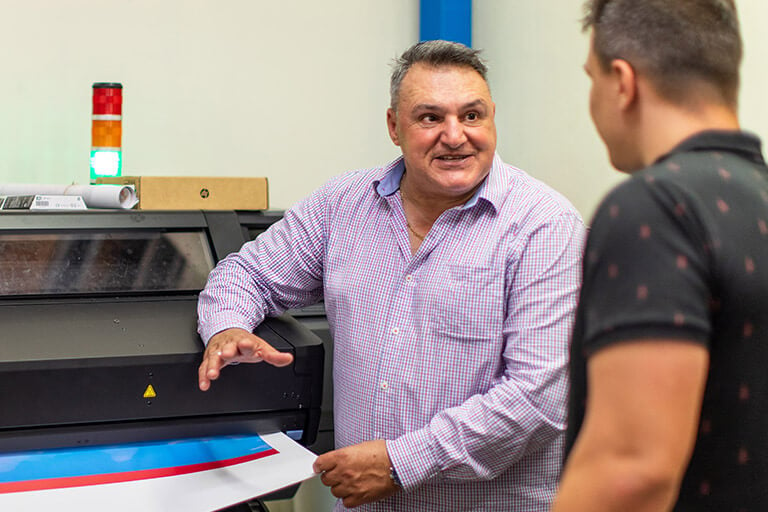 Reading the fine print in business
It was that thinking, around five years ago, that brought Michael to his next big idea. In response to growing customer demand, he launched a print division. This was a time when the rest of the market started lasering into digital and backlist LEDs. Ironically, through print, Michael future-proofed his business, and modernised his business model.
"The backlit LED screens have a 10-year warranty, so you sell to someone, and really have no reason to sell them anything else for 10 years – no recurring revenue streams," explains Michael. "That, to me, was a flawed business model."
A contract with coffee chain Gloria Jeans led to the formation of a new business division, focused on food-safe, sustainable print products. It's made possible by latex, water-based ink, which is soluble, recyclable, and importantly to clients, provides high saturation of colour.
"In business, it should always be a question of 'what-if' – people might suddenly stop buying LEDs, so let's consider some of the other ways we can guarantee a reasonable lifespan, and potentially franchise down the track," says Michael.
"We now have two large-format latex printers in the office, and our printing division makes up almost 50 per cent of the business. We're even looking at launching a print-on-demand model, with digital asset management software, which no one in Australia currently does."
Michael won't give away all his trade secrets, but he can reveal how forward thinking got him here. With two young daughters, he's thinking more about environmental sustainability, and turning a greater focus to corporate social responsibility in general.
"You need to sit down and look at your business model. And not look at it from here into the next two years, but the next 5 or 10 years, and have a really good market study. Everything starts with an idea, but the idea you start with will very quickly morph into something very different by the time you finish with it. When I look at where we started, where we've gone, where we're going, it's a completely different business model."