Bek McMillan worked as a chef in London and Melbourne for 12 years before taking over the kitchen of The Living Room in Templestowe. Eventually, she decided to chase her dream of opening a cellar-door style provedore in Melbourne, helping connect small-scale local producers with foodies in the city.
"I went to high school at Eltham College and they have a restaurant there so I worked as an apprentice chef during high school and then moved to London for a year where I worked at a fine-dining restaurant and really honed my craft. When I returned to Melbourne, I took over running a kitchen with my husband in Templestowe next door to where my shop is now."
Taking the kitchen to the shopfront
Bek's husband is the co-owner and Head Chef of The Living Room. So after cheffing around Melbourne for 10 years, Bek decided it was time to open up her own shop.
"My husband's family is from Milawa, so I was inspired by all the wineries and their cellar door stores, and provedore stores around there and the Milawa Olive shop, and the cheese shop. I wanted to combine these stores and open it up in the suburbs instead of a country town. It was important for me to stock small, local, family-run businesses and support them. I host cooking classes and teach my customers how to cook using the products, and we also create luxury high-end hampers for local businesses too."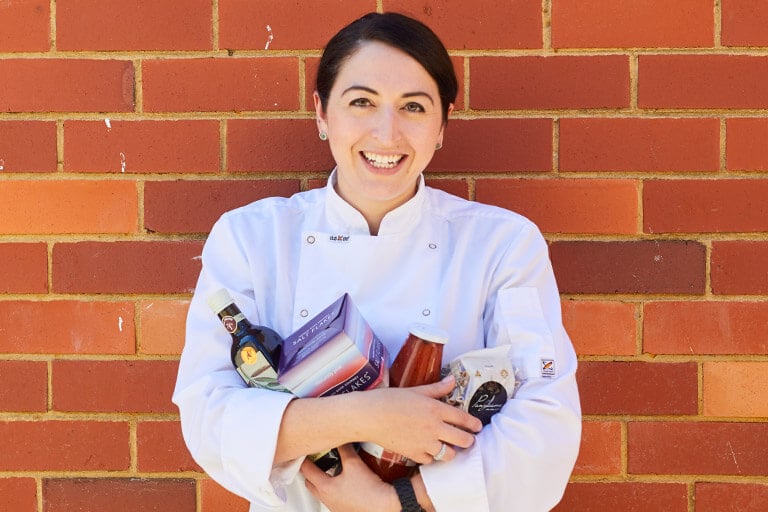 Making time for research
Bek took two years to research and prepare for launching her dream store. She comprehensively expanded her network of suppliers by hitting the road and driving around Victoria to find them.
"We opened in October 2012 after two years of travelling around to farmers' markets all over the place and meeting lots of producers. I noticed that most of these producers were small family run businesses and they weren't marketed for supermarkets, and really many only had farmers' markets, and their local provedores to sell their products. So after two years of finding producers and testing their products, I opened up Gourmet Living in Templestowe."
Going all in on opening up
The decision was a long time coming for Bek, but ultimately it was an easy one.
"I did my time in a commercial kitchen. It's quite secluded and I'm such a people person that I just wanted to be front of house chatting to customers all the time, so I was keen to get out of the kitchen, take my knowledge into a space where I could interact with customers directly and share that knowledge. I started cooking classes a few months after opening the shop so I could share my passion and show customers how the cook using the products in our store."
Early wins
While learning more about how to make her business numbers' help her grow, Bek secured some solid wins that helped pave the way forward for further growth.
"Aside from the retail store, the other main aspect of our business is selling hampers to corporate businesses, which relies on much more outbound effort. Our clients don't come to us, we had to set up a sales process and find businesses, organise meetings and really put in a lot of leg work to get them onboard, but it worked. We got a few large businesses onboard and they have monthly orders, which is a steady alternate revenue stream. I was also a finalist in The Telstra Young Business Woman Awards (Victoria) in 2015. That helped with exposure and aligning myself with like-minded business women."
First growth and promising signs
The time and effort Bek put into upskilling about her business knowledge paid off as Gourmet Living grew from strength to strength.
"We grew the business from me working on my own six days and three nights a week to employing five staff in just 12 months. The demand for hampers outgrew what I could handle on my own and that extra help enabled us to ramp up our sales efforts to find new customers too. Our structure has changed now, so now we have a secondary space to fulfill all those hamper orders. And the demand for cooking classes has drastically increased too, I went from doing one a month to doing five some weeks."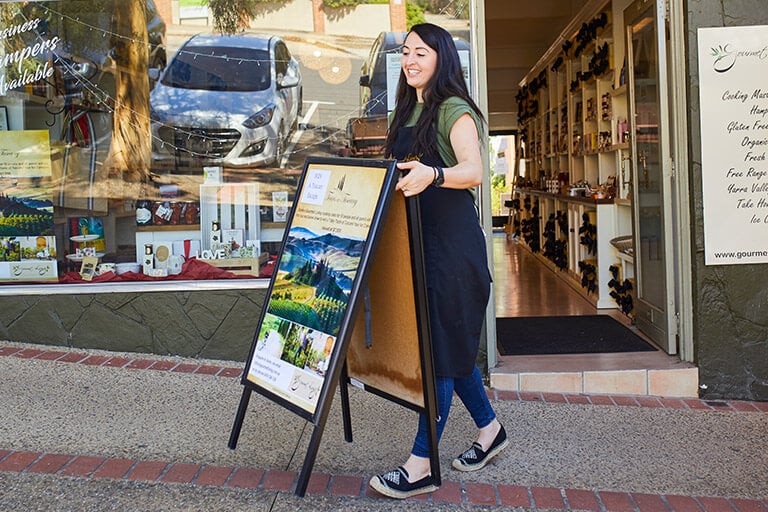 Clear values, and hiring staff
With such prolific growth and a new project, Bek realised she needed to grow her team and hire some staff.
"When it came to hiring staff, I was really concerned I wouldn't be able to find people who were as passionate about my business as I am, but I was lucky to find people who I actually met through one of my cooking classes. They lived locally and they were really keen to work with us, and to this day my manager is a local girl, passionate foodie and her passion really comes through, and she really treats the business like it's her own. Then it came time to ramp up the team focussing on the hamper sales. It was harder to narrow down and find the right person for that role, but we ended up finding two and splitting the role for both of them. They'd both come from sales backgrounds and they were super driven to make those outbound calls every day and succeeded in getting us into events where we were in front of hundreds of prospective clients at a time."
Handing over control
Hiring new staff was made even more challenging an time sensitive thanks to a new project Bek had taken on – her first child. Bek was pregnant.
"All of that hiring was happening while I was pregnant. So I was trying to wrangle all this while pregnant. I was trying to hand over my first baby – the business – while I was getting ready to give birth to my daughter. The girls ran the shop and everything ticked along perfectly, it was just hard to hand over that control, but it couldn't have gone better. The key to it working was finding people whose values aligned with that of the business and that's really supporting small Australian brands."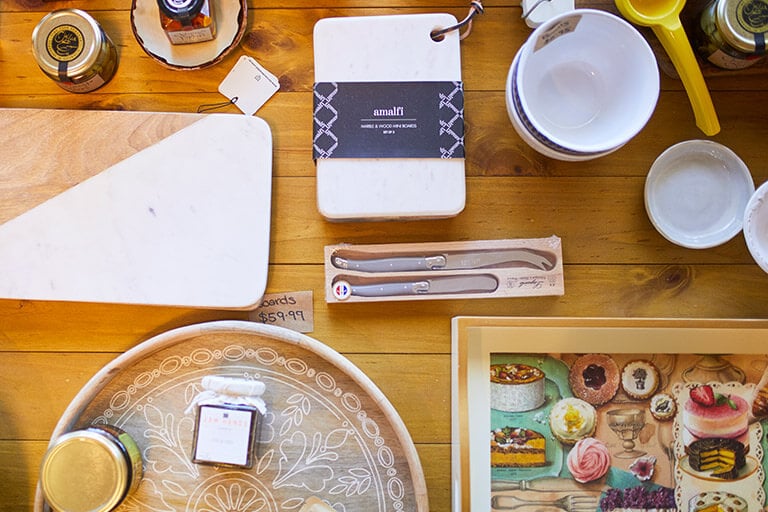 Work-life balance
With a new baby came new challenges, like work-life balance. And Bek quickly how to balance work, life, and her new baby.
"I try to be an organised person, but with a young child, unexpected things happen. So it's important to manage my stress levels when things don't go to plan. The first twelve months after my daughter was born was difficult, and I'm lucky I had such a great network of family and friends to help me and babysit. My daughter is two now so I'm picking up more shifts now – I can't work from home, there are too many distractions. Work-life balance is different for everyone and I praise those who can work from home, but I need to be at work in my store or out talking with suppliers."
Cash flow woes
After upskilling her business knowledge, and diversifying Gourmet Living's revenue streams, Bek was still encountering cash flow challenges.
"Despite diversifying our revenue streams, we still face cash flow challenges. So a lot of our hamper customers work in the automotive, and real estate industries, so when sales slow down, so do their hamper orders. When our hamper sales slowed down, we did a competitor analysis to identify some new opportunities. We realised we needed to differentiate ourselves from our competitors. When we've tried to break into new industries, like professional services, they already had existing relationships so we had to work harder to show why our product differs from theirs. So we offered some free cooking classes with hampers and that helped us develop new relationships with new customers.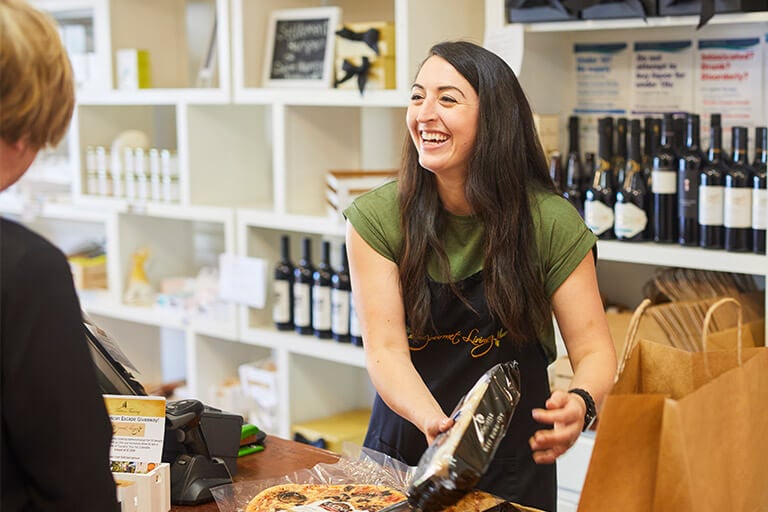 Combating cash flow pains with honesty
Gourmet Living has some big clients with huge hamper orders, which means a bit outlay of working capital and payment period before revenue comes in from the sales. Bek understands the impact cash flow can have on a business as she waits to be paid and needs to pay suppliers, so it was important for her to develop a strategy to chase late payments.
"We have large customers taking huge orders of hampers and taking their time to pay, which is a massive cash outlay for us. That is exacerbated because some of our largest hamper customers work in the real estate industry so if sales slow down that trickles down. And I have a couple of hundred suppliers who I need to pay, so we definitely feel the cash flow squeeze.
We deal with cash flow challenges by being super honest. I think it's important to be transparent. There's nothing worse than being chased by someone in an abrupt manner so we never do that. I find it works best when you open up a dialogue with them, be honest, let them know it's been x number of days since it was due and ask them when we can expect payment. And let them know we need to organise some payments and things on our end too. There's nothing worse than people ignoring phone calls and emails so an honest, open and transparent relationship works much better."
The power of proactive planning
From the outset, Bek was good at identifying opportunities to boost her sales. She uses less demanding weeks to plan marketing and sales initiatives to increase sales, which gives her more time to focus on the tasks at hand when she is busier.
"I'm really proactive when it comes to cash flow, so we look at the quiet times of the year and plan something to help pick it up. Events always work really well for us. People love going out for experiences and we love hosting those events. So we'll come up with an idea for an event and use our social media to market the event. We're able to cover our broad demographic between our social media and our newsletter. Our newsletter has a great open rate. We have a lot of customers who come in with the newsletter asking for a specific product or asking about a particular recipe, which is great feedback that we're doing something right there."
Winning awards and finding mentors
Bek discovered and entered the Manningham Business Excellence Awards and ended up winning three different categories across three years and this year, she returns as a judge.
"The awards were sponsored by Stefan Kazakis from Business Benchmark Group and he contacted me after the awards. We had a bit of a chat and at that time, the business was at a crossroads. The hamper sales weren't what they needed to be, and I was only taking about 10 people per cooking class and at that time I was only doing about 1 a week. So he agreed to mentor me and in the first 12 months after we started our one-on-ones, I increased the turnover of the business by 300%. He helped me change how I interacted with customers, how I captured data, and it made my cooking classes grow to two classes per week with an average of 17 people per class. I added in private classes too, which is another offering for our customers."
The latest big challenge
The next phase of Gourmet Living's growth is to expand its reach and grow its audience. Bek plans on reaching out to more businesses.
"The biggest challenge in the past year has been hamper sales. So many of our customers are real estate agents and because that market has slowed down so much, that's impacted our hamper sales. So we've had to adapt and so we're trying to build our reach and expand our audience into other areas, and other industries.
We've partnered up with a local travel tour company and together we're giving away a $7,500 trip to Tuscany to drive private cooking classes sales. When someone brings in a group of friends, that's a lot of new people in the shop and more people connecting with these great products and small producers, which is what the shop's all about."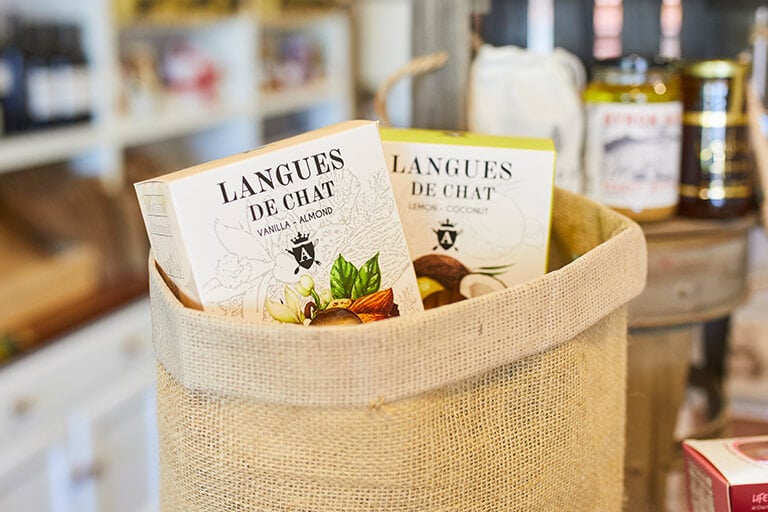 The importance of taking time to stop
One of the keys to Bek's success has been making the time to stop and review her business.
"I think it's really important to take time to review your business. I just try to take things a couple at a time, so I'm not too overcommitted. I used to make too many changes to too many things all at once because I thought changes had to happen all at once, but I've learnt to plan more and make more manageable changes more often. I like to start the year fresh and so we plan for the year ahead because September to December are our busiest months so we need to action our plans before that peak period because from September 1st until the new year our focus is purely on retail. We're so busy I don't have it in me to implement anything then, it's a matter of allowing the work we've done earlier in the year do its thing. We reevaluate new campaigns too, so we may review two weeks in and then another month later so we can see if we can ramp it up or make any changes to improve it."
One thing she wish she knew starting out
Bek has learnt a lot in the last eight years of running a business, but the most important lesson for her, and the one she wishes she knew starting out, was learning to master her numbers.
"There's lots I wish I knew but I guess coming from a cheffing background and stepping into a retail store, I wish I knew how important numbers were and capturing people's data. I was all over customer service and I thought that was what grew your business. Because if you're great at getting your customers in the door and then you give them a great experience then it'll work out, won't it? That's not necessarily the case and having seen the impact of managing your numbers, I really wish I was doing it earlier on."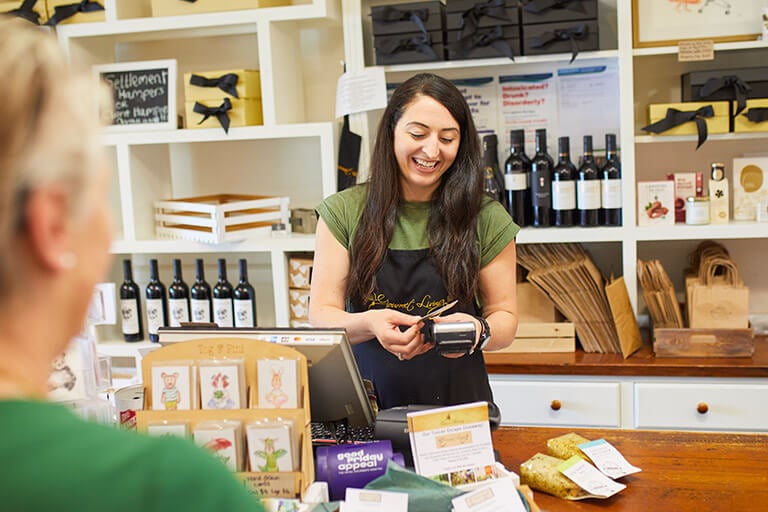 Future plans and growth
As Gourmet Living continues to grow, Bek has a busy year ahead. She is setting out to further grow her business, and connect more people with local Australian produce.
"Our goal is broadening our reach for hamper sales. We've updated our branding and packaging for corporates, so we can better encourage bigger businesses to support local Australian brands and suppliers. We're keeping with our philosophy and educate our customers on why it's important to support small Australian businesses. Long term, we're looking to grow our cooking classes and helping more people connect with food and cooking. We'll be offering more private cooking classes for team building and birthday parties and catch ups, and we'd love to expand to include hands-on cooking demonstrations too.
Our sole focus is on helping our customers connect with quality, local food. We help people pop in and grab a few things so they can cook a quick and delicious meal at home. We've built a nice community around the Templestowe Livingroom and Gourmet Living and we really enjoy helping people connect with local producers and cook great food, so all our plans are geared around helping more people do that.