When Mike Halligan's dog fell ill a few years ago, the ecommerce entrepreneur felt a calling to launch a business that was fairer on his pup, as well as the planet. 
As he went down the rabbit hole of the pet food industry, he came to realise there was a lack of transparency around health and nutrition, as well as supply chains. He spotted an opportunity to launch a 'completely different' pet food company and hold himself up to a greater level of accountability. 
Standing tall in a yard full of multinationals, Scratch is a subscription-only dog food service, making kibble with 98 per cent Australian ingredients. 
Minimising the middleman, and delivering direct to people's doors, direct-to-consumer brands like Scratch are getting cut-through in a post-COVID world.
From strangers to business partners
Most people launch businesses with friends, family members, or former colleagues. In 2018, Scratch's founders Mike Halligan and Doug Spiegelhauer approached the business a little differently. 
"I had the idea but I had no idea how to make dog food. Doug is the pet food guy. I just thought dog food could be done way better, and be way better for dogs, and with the right business model we'd be able to cut out some of the mark-ups along the way," remembers Mike. (The retail mark-up can sometimes reach a staggering 80 per cent.)
"I'd been asking everyone if they knew anyone who made dog food, and funnily enough, someone actually did. We met twice, and somehow I convinced Doug to quit his job."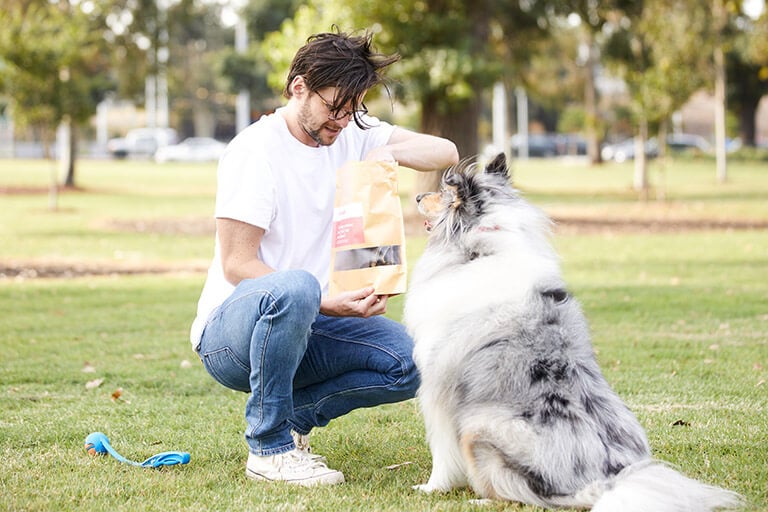 Being scrappy from scratch
What helps is both Mike and Doug are proud generalists. Owning their broad skill sets has served them well, especially in Scratch's early days, when they naturally found their place in the business through trying on different hats. 
"I wouldn't say either of us are amazing at any one thing, but good enough to get away with not having to hire people and do things on the cheap." says Mike.
"I designed and developed most of our website, then we worked with a designer on our packaging, and a nutritionist to do thorough testing on all the recipes, which ended up being more of a collaboration than a testing process.
"It's about getting your hands dirty and finding people who both like taking responsibility for something, and actually getting it done as well. We don't have a team of managers, we've got a lot of generalists instead."
The Mick Fanning effect
Bootstrapping in the beginning allowed Scratch to stay true to its vision. In the venture capital-backed modern brand era, Scratch made a conscious choice to grow at its own pace. 
Solving problems with fewer resources initially helped create a competitive advantage, as the founders learnt to do it all themselves. Without a board of investors, decisions were entirely theirs, which gave them the luxury of pursuing opportunities – like that time Mick Fanning, the former surfing world champion, signed up as one of Scratch's first 500 customers on a mate's recommendation.
Keen to catch the wave, Mike nudged his mate over the next 12 months to organise a meeting on the Gold Coast with Mick, and talk all things business.
"We were working out if the timing was right to invest, and lucky it was. He had just stepped back from surfing, had more time on his hands, and saw the difference it made to his dog Harper's skin condition."
When Scratch, virtually overnight, entered scale-up mode, that's when the team called on extra support. Immediately after a spot on 9News, the business saw three times the amount of sign-ups than anticipated over the month.
"Sales went crazy, and while it was stressful, it was a good position to be in – we needed extra capital to make more dog food and keep up with the demand," remembers Mike.
"Moula was a really good thing for us to be able to quickly access capital to finance that inventory. The reason we chose Moula over others was we knew we'd be able to pay the money back quickly within a month and it didn't have any early repayment fees. That made the biggest difference.
"Things like Moula help us operate the way we want to operate, with a bit of cash flow possibility."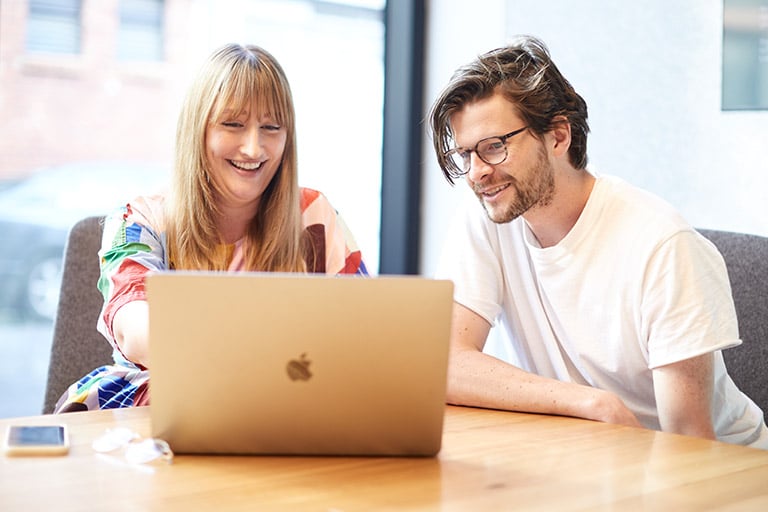 Keeping it under the one kennel
From developing creative to performance marketing, Scratch keeps everything in house, making collaboration easier, even with Mike in Amsterdam and Doug in country Victoria. This keeps staff on the ball, continuously testing, learning and optimising the marketing mix.
"Most of the outside work was the packaging and the actual food itself. But we love to do everything we can, in-house, keep that knowledge, build on it and share our learnings. We don't really use agencies or anything like that, it's all about getting better ourselves."
In Mike's view, Scratch's tone of voice is one of two most critical parts of not just the brand, but the entire business. Along with logistics, it's what sets the business apart from incumbents, as well as other challengers. 
"It's having a real clear point of view on what Scratch versus what another dog food company would do – that's a really big thing for us," he says.
"It helps our team know they don't have to get sign-off on everything they say; they can think for themselves. It gives them a license to make their own decisions without being micromanaged."
"Dry dog food is quite a dry topic, and we're in a stale industry. It's a big business game, so all the life got sucked out of it. We were keen to bring that back as much as possible. Working with dogs, it should be the most fun, light, joyous experience."
From drought to deluge and COVID-19
However, things can still get in the way, particularly down the supply chain, whether you're an SME or in the big business game. Mike has a hunch that customers also expect a different level of service from a business which promises convenience on subscription. 
Scratch uses local ingredients, at the mercy of Australia's sometimes favourable, often brutal, weather and climate systems. Until recently, over the life of the business, farmers in our eastern states had been battling a multi-year drought, where conditions peaked in the deadly 2019-20 bushfire season. Now, in 2021, many of these same farmers have suddenly gone from drought to deluge.
"When you're using natural ingredients impacted by the seasons, then you can really have a tough supply chain," says Mike.
"If you're always in problem-solving mode, when it's too late, business can be incredibly hard.
"At times, you'll find you can meet the demand, you just need more capital to make more food ahead of time. Being on top of forecasting, knowing how much food we have to make, so we don't let anyone down – efficient forecasting makes a subscription business work like a dream."
Even so, Mike admits the last 12 months have been tricky at times, due to COVID-19 and its impact on supply, shipping and logistics. In 2020, Scratch opened a new warehouse in Perth, adding to their Melbourne, Sydney and Brisbane operations. Try as they might, challenges with Australia Post snapped the business into reactive mode.
"Anything in a large box got really stuffed over by COVID, as Australia Post focused on getting as many small packages into a truck as possible and pretty much ignored the larger boxes," recalls Mike.
"You've got all these dogs wanting food on time, but our packages were getting deprioritised and lost in Australia Post, taking 3-4 weeks to arrive, which was an absolute nightmare. We ended up using couriers for a few months, costing us tens of thousands of dollars."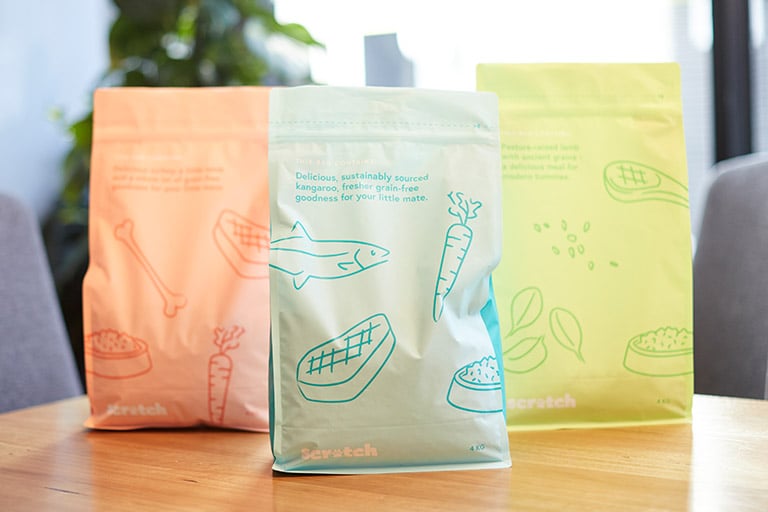 Caring for people and planet
Responsibility to people and planet is baked into the Scratch business model. The founders are friendly with Koala, Who Gives A Crap, and other purpose-driven Aussie businesses, who together sound out ways to make an impact.
Since the beginning, Scratch has donated 1 per cent of its revenues to environmental and social causes. It recently doubled that amount. Now, 1 per cent goes towards dog welfare charities, with the remaining 1 per cent allocated to fighting pollution. 
"We're at the point where we're growing up so we can do a lot of the things we want to do, but never had the scale to do," offers Mike. 
Scratch recently applied to become a B Corp, a certification reserved for businesses that meet the highest standards of social and environmental performance, public transparency, and legal accountability. 
"They judge you on your actions, not your intent. If you see the B Corp logo, you know the business has done the work."
Becoming carbon neutral
Achieving carbon neutrality is an overarching goal. Through carbon offsetting, reducing emissions, and a tonne of commitment, Scratch aims to neutralise its contribution to greenhouse gases.
"We've started to focus on the effects of ecommerce, which is delivery, warehousing and packaging, and delivering that in a way that's as impactful as possible, ideally being as positive or more positive than going to the store," explains Mike. 
"Corporate social responsibility is something we really care about, although something that's hard to do when you're small. As long as you've got suppliers, and you're not a big enough piece of business for them, you're seemingly at their whims.
"At this point, it's carbon neutral for the delivery itself, rather than our whole operations. In terms of the stuff we directly control, we're fully carbon neutral, but we're still working with suppliers to get them fully carbon neutral."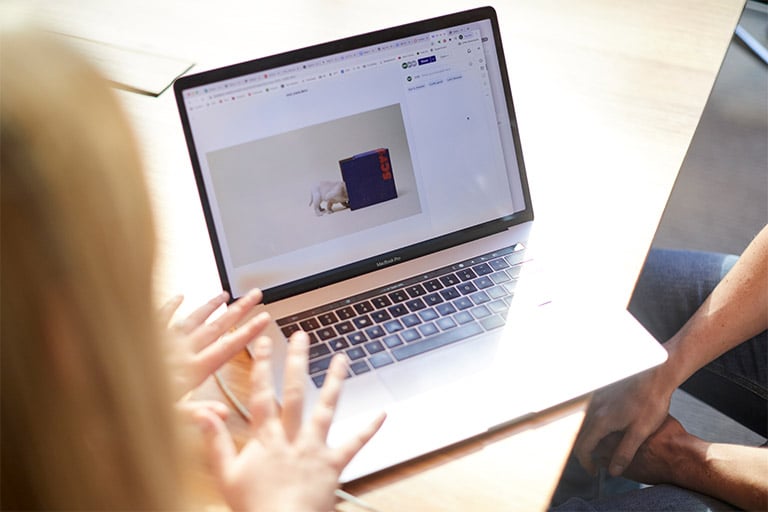 Running a remote-first work environment
COVID-19 came with its challenges, which demanded extra coordination, but it didn't change how the business worked day-to-day. That's because, from scratch, Mike and Doug have encouraged asynchronous, remote-first communication. (Top tip: Scratch runs on software called Twist.)
'Async' communication is when you send a message without expecting an immediate response. In an async environment, employees have agency to move projects forward on their own schedule. There's a focus on results, not hours worked. When a company can make it work, async reduces stress and increases productivity.
"Working asynchronously means we post updates throughout the day and have a few meetings, maybe two or three, throughout the week – for a remote business, we run on very few meetings, and a lot of text updates instead," explains Mike.
"It's a very autonomous, 'run your own day' environment, where you update people and request help when you need a hand. Unless it's super important, people get to stuff in their own time."
Coming close to burnout in the first year of business, Mike says the importance of restoring boundaries between life and work can't be understated. 
"Asynchronous means choosing what's relevant to you, shutting out the noise, shouting out when you need a hand, and getting stuff done without distractions. The ability to focus, govern your own day, work from where you want, when you want, and just do a good job, rather than simply being online and contactable all the time, is the way for modern working."