Jasmine Scarr is a tanning technician who has built a seven-figure business in beauty. With physical shopfronts, COVID-19 had a profound impact on her business, but not in the way you might expect. 
Born and raised on the Gold Coast, the young entrepreneur developed a strong work ethic working part-time jobs in her early teens, before carving out her niche in the beauty industry. Her mum was a beauty therapist, but the very idea of making a career out of spray tanning wasn't even a possibility until the early 2000s. 
"I was the second mobile spray tanner on the Gold Coast when I started; it simply wasn't a thing," laughs Jasmine.
"When I went for my first interview at a tanning salon, the owner asked, where do you see yourself in 10 years, and I said, owning your salon – I always knew it was what I wanted to do."
As a sole trader, Jasmine started building her business 16 years ago. She took the leap and went full time with Bella Bronze Tan nearly 10 years ago, incorporated her company, and has been showing the naysayers ever since. (More on the naysayers later.)
"The business has grown significantly in the past 16 years, from two figures to seven figures," she reveals. 
"I opened my first salon in Mermaid Beach in 2014. Initially, they were only renting out the bottom floor, then said the top floor was available – I said I didn't need it, but about five minutes later I said, I'll take both, and I'll figure it out. It quickly became a coworking salon for tanning, hair, and makeup, before that was really a done thing.
"Going full time was a dramatic jump, when I went from tanning 30 people to 90 people per week. I just gave it my all. Every year from then, until last year, we saw a 10-15 per cent increase in profit margins."
And then COVID-19.
"It was really bad for so many people, but we were very fortunate. We've seen 40 per cent growth this financial year, even though we shut down for two months across both salons in Brisbane and the Gold Coast."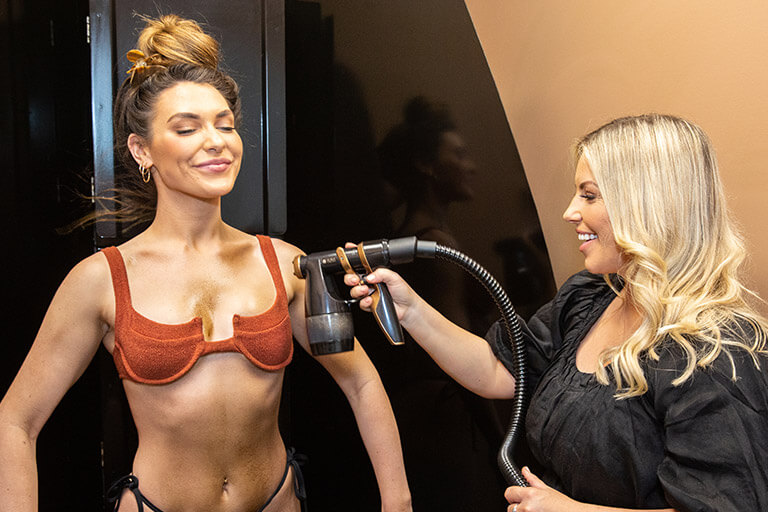 The COVID-19 effect
Before the glow up, COVID-19 brought Jasmine pause. With that, she refocused on things she'd previously put aside because she didn't have time, such as redoing her website, and worked on new products, appointed an external marketing team, and launched the Bella Bronze Academy. All that within two months, before launching new salon services. Oh, and with a toddler in tow, and another baby on the way. 
"I started looking into different revenue streams I could bring into the salon for when we eventually reopened, and body sculpting was one of them," says the Gold Coast entrepreneur. 
"As a service, it brought in six figures, instantly, for this financial year. It has been absolutely gangbusters since then."
Behind the scenes, the Bella Bronze Tan marketing team, based in Victoria, spent lockdown getting her up and running with Facebook marketing. In a competitive market of venture-backed brands, she knew it was time to step up to the mark. Having never run Facebook ads before, she immediately saw a significant uplift in website traffic and cart conversions. 
"I grew everything organically to that point, but I realised over this last year, I just can't keep doing it all. Anyone in charge has to recognise their strengths and weaknesses, and outsource or learn to delegate accordingly."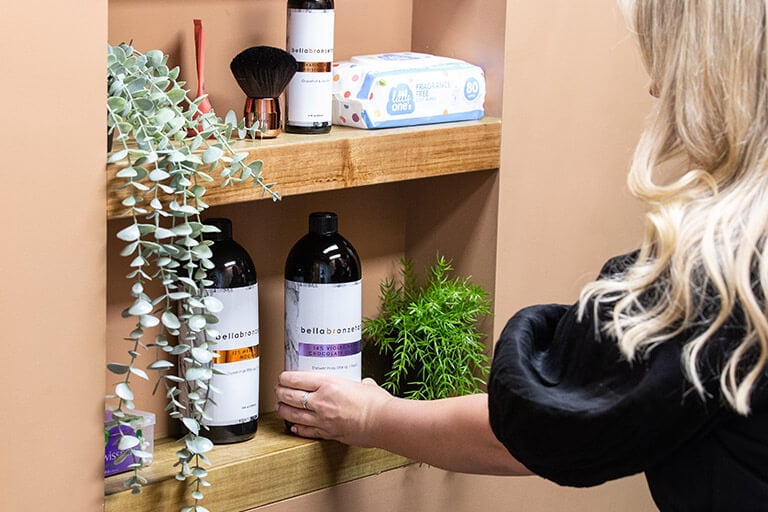 Working influencer marketing
Besides tanning, the thing that comes most naturally to Jasmine is brand building. She was an early adopter of influencer marketing, and to this day, appears to feature influencers in her campaigns. As she points out, "influencers haven't always existed, they were models back in the day, who happened to be my friends". 
Through trial and error, as well as friends becoming influencers with followers, and now fans, Jasmine has developed a sophisticated understanding on influencer marketing. 
She says Bella Bronze Tan has always received a better response when reaching out to people herself, particularly influencers with between 5,000 and 10,000 followers. She'll simply send them a bottle of tan, and kindly ask if they'll do an Instagram Reel. 
"We engaged an agency to do 'traditional' influencer marketing at the end of last year. I didn't see results. I didn't see the return on investment at all. Influencers with larger followings seem to get lost in the noise, at least that's what we've found. It's also not my brand message. I'm much more inclined to work with nanos and micros than major influencers."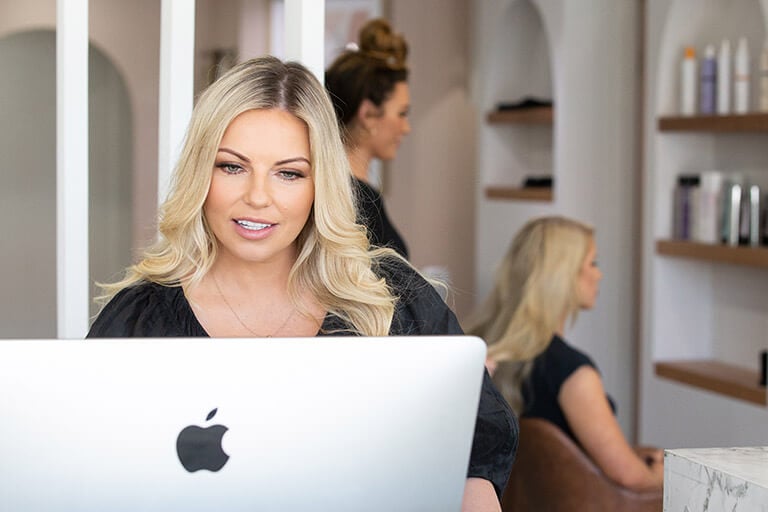 Good clients make great staff
In a high turnover industry, Jasmine lives by the rule of only hiring clients, and empowers her staff through a coworking model. 
She runs Bella Bronze Tan salons as a project manager, keeping a flat structure, recruiting specialist staff, and never hiring direct reports. While she stands to gain less financially this way, to keep good people, it's a trade-off she's willing to make. 
"For me, I'm not a beauty therapist, and I didn't have the knowledge of all the areas of beauty to have staff work under me. There's definitely more money to be made if people work under you, but there's always a risk they will leave and compete. This way, we're all working harmoniously, and there's constant foot traffic in a like-minded environment. Plus, the clients appreciate you more because they're going to someone who is a trained professional in that area, not a hairdresser who does nails, and vice versa."
There's a sense that most staff aren't working here while in-between things. If not studying part-time for other careers, many are building careers in beauty, and through example, Jasmine is focused on showing it can be more than just a job, and a rather lucrative career, when you focus on your craft. 
"Everyone sees the growth in the business, and recognises it might not be just a 'job' – the company is not going away, and if you stick around, there are so many opportunities to be involved in different areas and create a career for yourself under the BBT banner."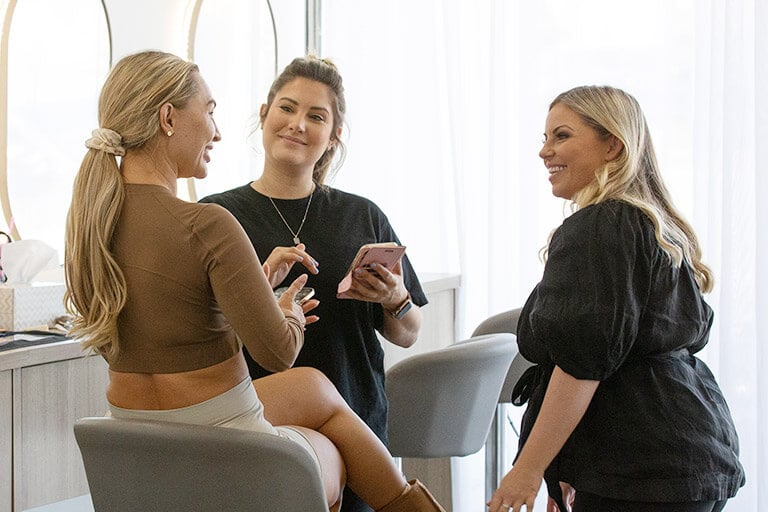 Bottling beauty and protecting IP
The biggest opportunity for Jasmine in recent years has been in the realm of product development. She started researching spray tan formulas and blends in 2011, before launching her own product in 2014 – "yes, product development really does take that long."
Her tip? Start yesterday, get your marketing down pat from today, and protect your IP from the very beginning. Also, be prepared to sink real capital into product development, especially if you're manufacturing in Australia. Jasmine spent $50,000 developing Bella Bronze Tan's premier violet solution, which was a relatively small sum, as she was fortunate to initially land on a manufacturer in Victoria that worked with her the entire journey.
"I wasn't happy with what I was using, and the cost started to get to me, like why am I paying all this money for a product which isn't perfect," she remembers. 
"It took two years to perfect the product with the manufacturer, through many calls, back and forth, and many more emails, often at 3 am from me. I did that while mobile tanning, with my sister as my first staff member, while finding a salon, being pregnant, opening the salon. It was really hard." 
While Jasmine has never met her manufacturer in person, there's something to be said for her loyalty, and she can't be tempted with a better rate elsewhere. 
And as big as she is on brand, she's even bigger on intellectual property.
"It's so important you ask questions at the start, about protecting whatever you're developing, because if you start the process only to find out later you can't extract your IP, then what's the point? If you see the growth in other countries, look into how you stack up in other markets, so you can keep costs down and avoid exporting – protecting your IP is absolutely key."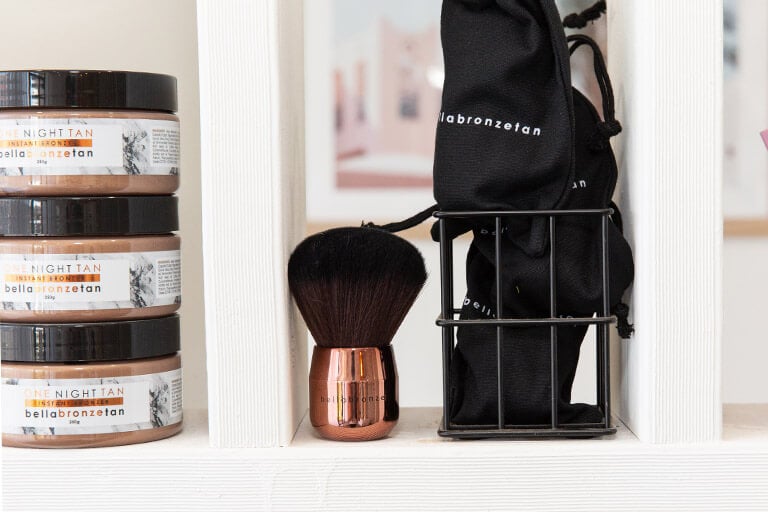 Big things come from little boosts
As Jasmine looks to other markets, with an eye on further expanding in the US, she has recognised the value of a 'little boost' along the way.
She's keen to support growing businesses herself, which is why she has chosen to sell her products direct-to-consumer, on a business-to-business level, sidestepping cosmetics giants and our local department stores, so "Janet in Toowoomba can make money selling BBT to her own clients instead".
Likewise, Jasmine recognises and remembers the cash flow boosts that have not only seen her through, but helped her own business scale and thrive. After investing in product development, Jasmine came to Moula for working capital, which she put towards marketing.
"In 2016, I was a sole trader at the time, and even though I had been with my bank my entire life and they could see the funds coming in and out, they didn't want to give me a loan," she remembers.
"I was rebranding, and wanted a luxe look to complement our high-quality product, and the ability to order larger quantities of stock. The banks didn't want a bar of me. If Moula didn't support me, perhaps we wouldn't have the products we do today."
Having the money there 'nearly instantly' was key to fuelling her growth. 
"I've invested everything I own into the business. Everything. I don't own property because I've been building up my company asset, which is far more valuable than property, in my opinion. So when the banks don't want to lend you money because you don't own property, it's so frustrating in business. 
"SMEs need little boosts along the way, and for those who don't have assets to apply at a bank, or need funding for an opportunity, Moula is really helpful."