Caitlin McMahon didn't need to two-step around her decision to launch her dance career straight out of high school. The world was her performance stage and her passion for dance was unhindered.
Stepping up
Caitlin McMahon's drive to tap into any and all opportunities led her to audition for the cruise company, Royal Carribean International. She was a standout performer and was immediately offered a contract. However, the company had to wait for her to turn 18 before she could officially join the troupe.
"My first contract with Royal Carribean was based out of China. We did the whole of Asia pretty much – over 18 countries on my first contract. I ended up doing four consecutive contracts with them, working my way up the ranks. I moved on to dancer/aerialist and then moved into supervisory and management positions, such as dance captain."
After her stint with Royal Carribean, she moved to London for three years where she performed in several productions on the west end. She traveled around Europe for a while when she realised she couldn't bear the weather any longer.
"I missed Australia, I missed our beautiful weather and gorgeous beaches. I'm a very outdoorsy person myself so I really enjoy being in the sun and everything, and I wasn't getting that over there."
Caitlin moved back to the Gold Coast in 2016 and hoped to pursue her dance career but compared to her eventful career overseas, the opportunities weren't as inspiring. This got her thinking about how she could help others experience a similar career to hers, so she decided to try her hand at teaching at a few dance studios in the Gold Coast and Central Queensland. She immediately felt a sense of reward and knew she needed to create her own space and environment that would inspire and nurture students to pursue their own passion for music and movement. And so Dance Mafia took centre stage.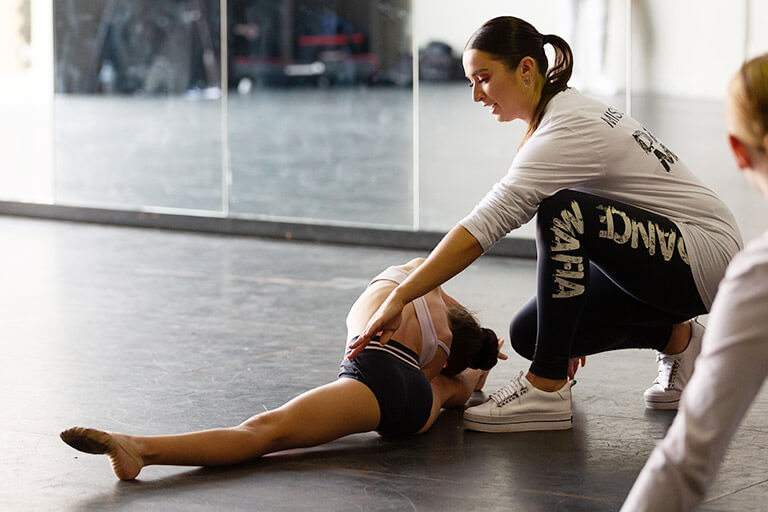 Taking centre stage wasn't all glam
Caitlin's ethos is to create an accepting and loving environment for all dancers of all abilities. Finding the right blend of nurturing and skillful staff to support and elevate her values was a challenge at first. With no prior following on social media, it was hard to get the word out. She managed to hire three teachers in the first year through previous studios she'd taught at. And she herself took on 40 hours of lessons a week with all the admin too, building up to 60 hours a week and truly becoming a real slave to her work.
In true Millennial fashion, she became a prolific social media user creating current marketing content and posting frequently to build up her following.
What quickly became clear was that despite the multitude of choices on the Gold Coast and most studios being supportive of each other, Dance Mafia had an edge.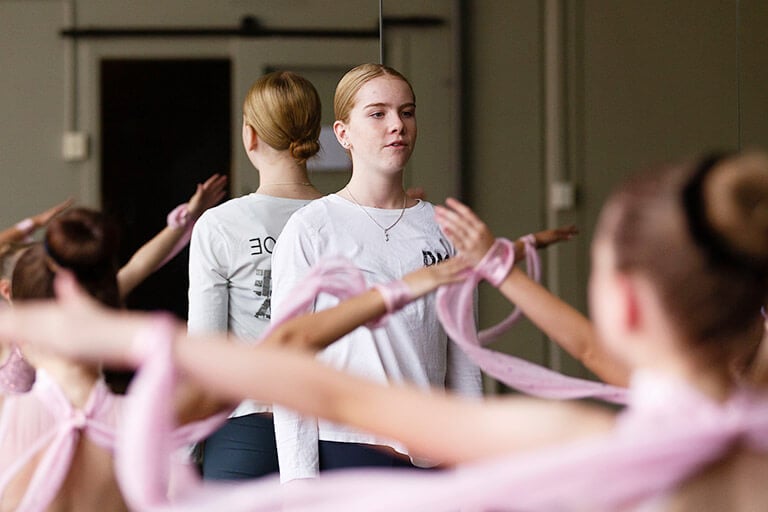 From 0 to 154
The early days of any business are challenging and often overwhelming and this wasn't different for Caitlin.
"There were things like finding a space, I had to create advertising, media, and marketing content with no footage, statements or testimonials. It was really hard starting from scratch and trying to advertise and convince people to come to you when you have nothing to base it upon."
So Caitlin came up with the idea to hold an Open Day to help stimulate interest. She cleverly targeted parents through ads on Facebook, Instagram, and local radio stations with promises of face painting, balloons and plenty of fun for the kids.
"We had over 50 people turn up, so that was really exciting and really encouraging for me. And from there we had 16 sign up just on that day so that was a turning point for us."
There was no stopping the growth from there; 16 students grew into 36 in just 10 months through word-of-mouth and growing her social media presence. With 36 students an end of year concert became an exciting prospect to showcase the kids' hard work and new skills, to family and friends. The performance attracted a commendable number of attendees and their feedback surpassed all expectations.
"The feedback from families and friends was so positive and so beautiful. That really warmed my heart but it showed in our numbers, as a week later we had 70 students. So, we went from 36 to 70 in about 10 days, and that was after the concert so that was incredible."
Now into the third year of business, Dance Mafia currently has 154 students enrolled, showing a consistent 50% increase in student numbers each year. Not only are there more students, the average spend per student has increased from $26/week to $65/week – a 40% increase in revenue per student.
Her customers are mainly young families with children aged 2-18. And the teenagers, in particular, are huge social media users who are hooked into trends like acrobatics, so special classes have been put on to service this demand and further diversify the kids' skills.
The good news is, with the studio's unprecedented growth over the last three years Caitlin has been able to put on 12 new staff members, including a receptionist and a personal assistant. She's finally been able to pull back on her working hours to a moderate 35 hours a week, much to her relief.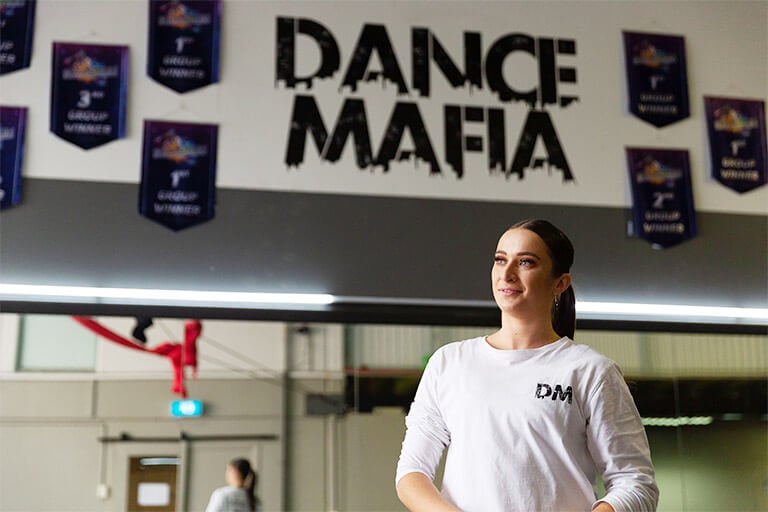 Tools that took it to the next level
Marketing the studio was one crucial element of growing the business but  Caitlin also needed a system that would help manage her customer database, bookings, and payments. She'd had a go with a few systems but they weren't meeting the mark. Then a teacher from another studio raved about one in particular and Caitlin got on to it right away. It was a revelation.
"We recently adopted a new app and software system, called Dance Studio Pro. It has been life-changing for me in running the business. It allows me to do so many things; it's got all of our customer details and information on there. All of our waivers and permission forms are all electronic now. Parents can log in and see their account information online from their own portal, and pay online and everything's so streamlined and easy to run nowadays."
Caitlin also keeps abreast of the industry and what competitors are doing and offering by being active on online forums, Facebook groups, and MeetUp groups. She recently employed a business development manager who helps her strategise growth opportunities.
"I went on a retreat with her and a group of likeminded individuals and we discussed plans, ideas, what I'm capable of, what's proven to be successful and what am I able to implement into my own business and make it my own in my own sense."
Going out with a bang
Since classes run alongside the school term periods, the studio comes up against some very quiet periods, especially over the summer holidays. This means while the expenses are still going, there's no income over that period, making it tedious to budget for and keep cash flowing.
Knowing this to be the case, she's planned ahead this year and will be running an exciting summer school program hosted by brand new teachers.
"It's a chance for them to work with someone new and parents get a holiday too, which is all good for them. It's good for the kids to learn from someone new; learn from industry professionals and get inspired again after their time off."
But before that, the kids are set to go out with a bang. The end of year concert is in three weeks' time and they're busy pulling together and perfecting their performances. Stress levels are high with teachers and parents banding together to raise funds for costumes to lower costs for families.
Point your toes
Caitlin's tips for encouraging business growth:
Invest in an advisor – someone within your respective industry who's 'in-the-know'
Build your social media presence and keep it current and continuous
Accept help – delegate a little bit and be accepting of others' help
Create a team you trust and love and invest in their growth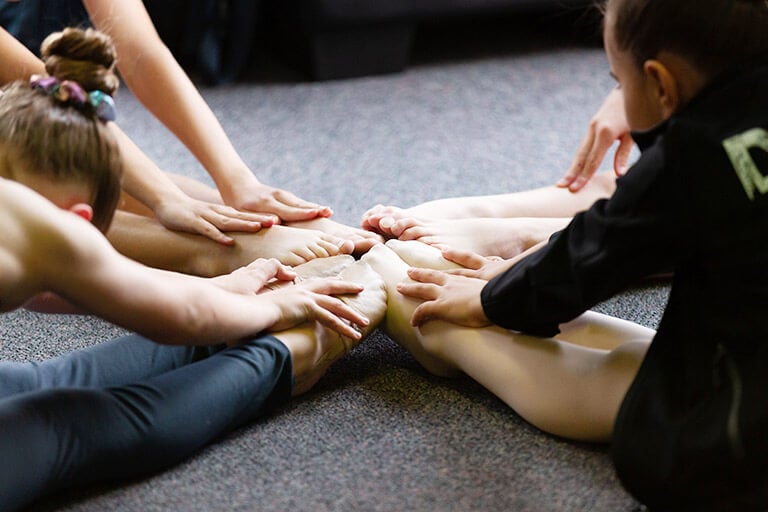 A word or two on environmental sustainability
When it comes to environmental sustainability, Dance Mafia is committed to meaningful initiatives that also benefit students.
"We are very recycle-conscious. We do the cans for change, so we collect all of our families' cans, bottles, and water bottles. Not only at the studios but we supply bins for families to bring in theirs and we will go and exchange it for them. That's one of the ways we do fundraising as well, families can come in, it's not a lot but its 10c per can and we raised $70 from it, we recycled over 7000 cans. When you think about it, it doesn't seem like $70 is much but then you realise it's 7000 cans that are not in the ocean!"