"Everyone's got a passion for food, everyone needs food, so it's a market that's always going to be there. My job now is to follow and predict food trends helping customers stay on par with a trend, as well as overseeing the supply of core ingredients to manufacturers."
Essential Food Services was built on years of 'blood, sweat and tears', and it all began in 2011 after Guy and Melissa Lewis moved to Adelaide to start a family. They hadn't planned to start a business while embarking on parenthood, but then the opportunity to buy a smallgoods company came up, and it was a perfect fit for them. Guy was experienced in transport and logistics having worked at Coles, and Melissa had a marketing background; together it provided a solid foundation to branch into the food industry.
Foodie trend spotter
It wasn't just their professional backgrounds that helped them see the market potential in the food industry. Their first product line was introduced out of deep-seated empathy for people suffering with coeliac disease; something Guy was very familiar with, having grown up with a mother who was a coeliac. He discovered that Adelaide lagged other states in alternative food offerings such as gluten free options, giving Essential Food Services the perfect opportunity to carve out a piece of the market. They took a punt on getting behind a local producer of gluten-free pizza bases, so they helped cost, market and distribute the product. It took off and they've been expanding their offerings ever since; diversifying their lines to include dry goods, food services and a boutique range of retail products for South Australian Foodlands.
Guy sources inspiration for new product lines via food shows, food service expos and markets. "I gather information and bring it back to Adelaide. When I can see that a trend is going to take off, I try to implement it. Sometimes you win; sometimes you lose, but you have to give it a go."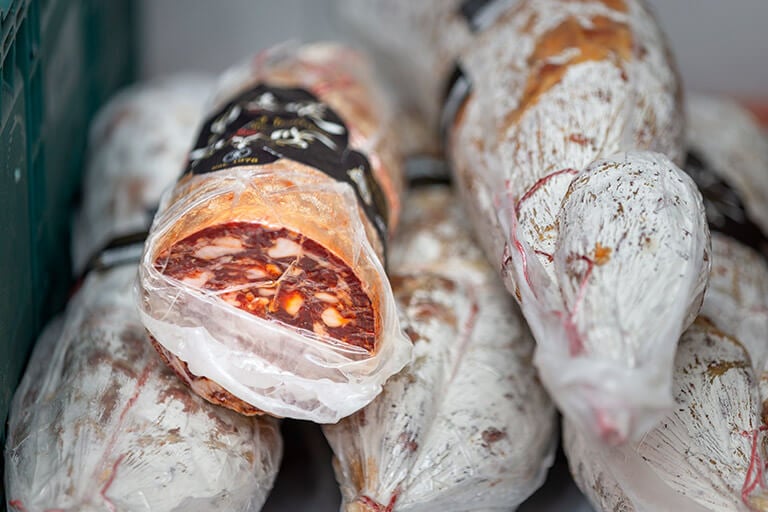 Not every curry is a winner
Guy and Melissa have gone from strength to strength but it took some hard lessons to get there. Guy once took a gamble on a curry paste he loved but unfortunately, it didn't work out as he hoped. "I purchased it through my heart, not my head and brought it over to Adelaide, and it bombed. It didn't sell at all and I was left with $8,000 worth of stock that even I couldn't get through, so I gave it away to charity. It was the biggest thorn in my working experience as a business owner, to try to offset what you feel and how you feel about a product. You might've fallen in love with this product as a child and you want to buy it because you want it to do well, but it doesn't. You really have to think about the products, do a market plan, do the costings and everything correctly."
With growth comes hard-learned lessons
One of their greatest challenges turned achievements has been building the right team who form the backbone of the business. "In the beginning, like any business would, we've gone through the rough times filtering out staff. People wanting to come in but not wanting to work, people saying they want to work but don't turn up. I believe now we've got a really good core foundation of people, a good team, good comradery, good morale and that's really important if they come here and enjoy their work environment. For me that's a big tick and then from there that should spread out into the customers."
Being a supplier adds an added layer of stress when it comes to cash flow. Guy partially attributes it to having accepted loose payment terms when they started out, because they were just glad to get business. "We're very strict with that now and so you should be. That was my naivety in business I suppose, believing people. There's a fine line between what they're saying and what's going to happen and so you just have to set a credit term and stick with that and be very strict with it."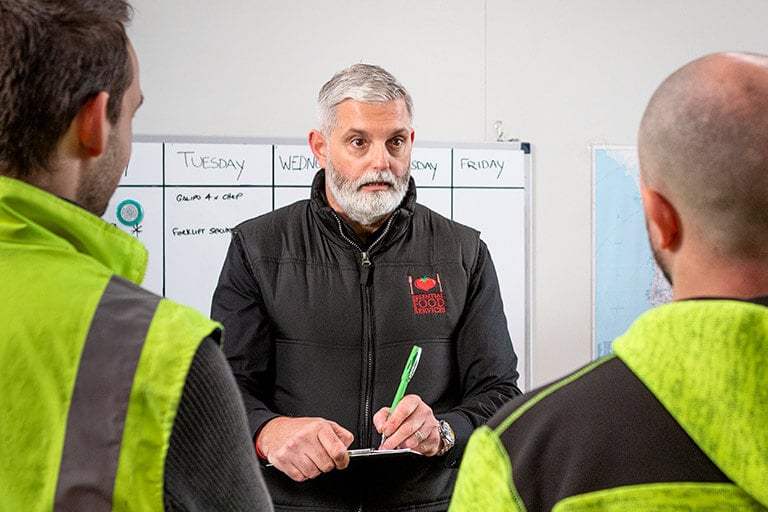 Staying small, thinking big
Guy's corporate experience helped realise his own business values and strategies for growth. "I think what's worked for us is our approachability to customers. There are some big players out there who aren't always easy to communicate with; not easy from a customer's point of view to portray what they want from you as a provider. I've picked up a lot of the big business procedures, work ethic, what they do, how they get big and how they stay big, and I've toned it down and implemented that into my business. So, we get a work balance of both big corporate procedures and a small business accessibility and comradery blend."
True to the ethos of staying small and thinking big, Essential Food Services are the official providers of JetStar crew meals for all planes leaving South Australia. Their sights are set on growing within the airline sector as Adelaide's airport expands.
Guy also has his sights set on expanding into third party transport and logistics, specialising in warehousing, distribution and sales solutions for interstate companies. "I'm one of those people who keep pushing the boundaries, and I have to keep driving. So there's going to be more blood, sweat and tears along the way but I'm just going to keep pushing through."
Advice to new business owners
Reflecting on his experience, Guy encourages people who are starting a business to have a plan on how they want to grow, and stick to that plan.
"This is my personal experience. Don't let anyone put you down, get in your way, tell you otherwise, until you've done it yourself, always believe in yourself."