Twenty years ago, Peter Merchant was working in South Australia's Fleurieu Peninsula making Tuscan style pavers using local sandstone. Little did he know back then that the experience would kick off what he's now grown to be a global business, exporting local products/stone as far as Dubai. But scaling up has meant trimming back, restructuring, and smarter spending.
"My motto is, even if you're on the right track, if you sit there, you'll get run over."
From Hollywood and nail salons, to statues and paving
Peter Merchant started Maison Design 20 years ago, but he had his taste of Hollywood glamour beforehand, "I used to do motion picture makeup special effects in Hollywood, and then I branched out. When I came back to Australia, I opened a boutique and started doing ladies' fingernails."
Working with sandstone didn't begin with his current business though.
"I then worked in steel casting people's bodies, mainly for torsos and women's breasts. From there I got into sandstone and reproducing statues, and things evolved from there. It was all connected in the long run. After that, I worked for a business on the Fleurieu Peninsula making Tuscan style pavers. After 12 months, I started out on my own and set up my own business servicing Victoria, Queensland, and then the Adelaide market. We started out with pavers, but over the years branched out to other products as we grew."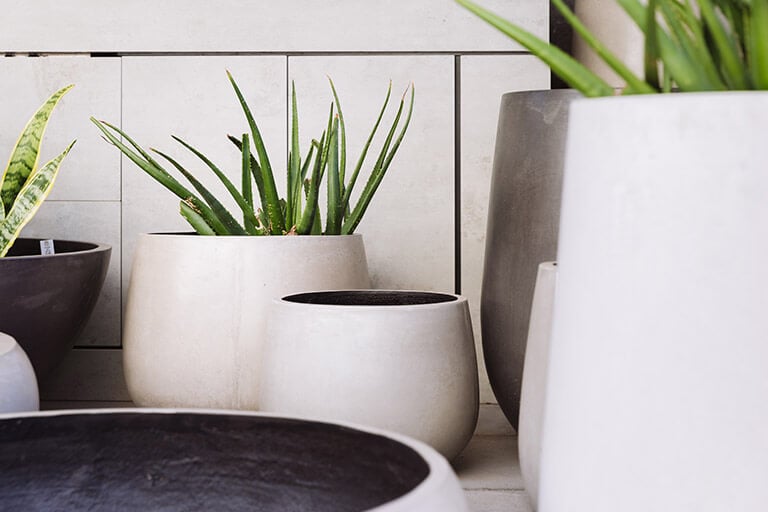 Broadening the product lines to grow the market
Though the paving and decking are the main parts of the business, they've expanded to include a cosmetic range of products too, including pots, laser cut screens, outdoor furniture, and sculptures. Diversifying their product range has enabled them to reach a broader market, but also to offer an experience and not just a product. "We're trying to give people inspiration."
Their hero product is a uniquely Australian sandstone, sourced locally from a natural water spring, with a unique colour that doesn't fade or bleach. But what makes it unique is that it stays cool underfoot, which makes it in demand in hotter countries.
"We've been selling that for 20 years. We're now starting to sell it into Dubai, which is a huge opportunity."
Over the years, however, they've moved to sell less natural stone.
"Our new range is porcelain pavers which has taken over the natural stone. It's scratch and stain resistant, doesn't require sealing, and doesn't need maintenance. We've shifted to listen to what our customers want, which are low-maintenance products which can be laid down and forgotten."
Seeking trends from overseas
In choosing which new products to branch out to, Merchant says they listen to demand, but also search out new designs to ensure they stay ahead of the curve.
"Australia does seem to follow. There are phases which people go through. I look at inspiration from products popular in Europe and follow trends.
"I search on the internet to see what's around and what the trends are. I'll see something and think, 'Well, I can improve on that'. We're always thinking about what we can do better. We had beautiful ranges of planter boxes and pots, but they were heavy and sometimes cracked. We looked around and found a better way to do it using glass reinforced concrete."
Trimming down to scale up
Though products have been an important factor, perhaps the secret to Merchant's growth lies in smart restructuring and trimming costs in order to scale up. Outsourcing and focusing on key strengths have enabled him to run a leaner operation with fewer overheads.
"Back in the day, I had 22 staff. Believe it or not, I've now sourced out my production plant for making reconstituted sandstone. I cut away about 15 staff just by doing that. I now have someone under license making Maison for me, and they employ a few of my staff. I've actually trimmed the structure of my business in that way. I don't have the running cost of a production plant. With the introduction of Dubai, and the volume of orders we're expecting, we needed to be able to accommodate the orders, which is why we made the change.
"Here in our store, we've cut down our staff a lot too. We used to have an additional yard. Now, the way we run it is by having sample stock here only. We run it just as a display centre. You can look around and get inspiration, but we don't carry stock anymore. It's all made to order. We've changed the structure of the business and we've trimmed it immensely over the years."
Shifting gears with marketing channels
Merchant's biggest challenge has been getting exposure. "We know we have a good product, and only sell good quality products, because we deal with architects who aren't interested in the lower-quality materials. We're trying to get into the architect market, and it's been a hard one to crack."
But shifting advertising channels has helped grow the business and realign it to today's consumers. Once again, trimming down has helped Maison Design to scale up.
"We've trimmed things even with our advertising. We were advertising quite heavily in the papers, but we don't do that anymore as it stopped working. We used to do full page ads and get a huge response. The last times we did it, it didn't work, and it was clear that we needed to shift strategy.
"The writing was on the wall with print advertising. You didn't have to be that smart to work out that this wasn't the go anymore." We've now put money towards Facebook and Instagram as that seems to be the trend. That's the beauty of being a smaller business and not a big corporation. We can size it up and do what we think will work better."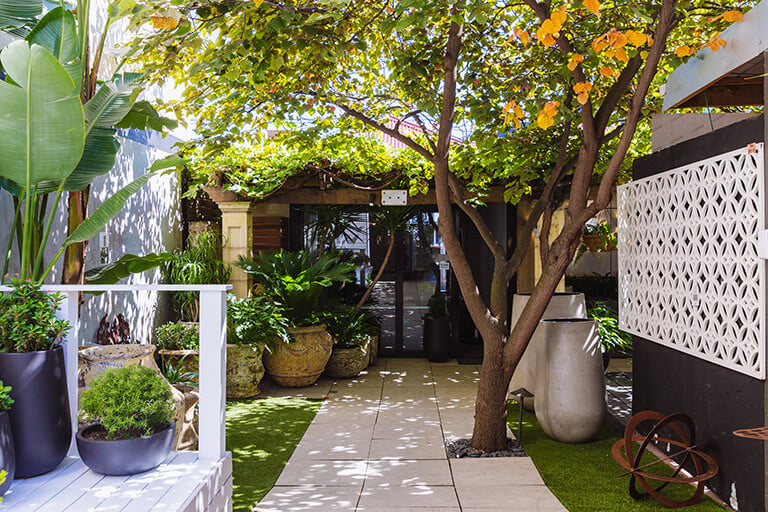 Riding the cash flow peaks and covering the dark troughs
Winter months are quieter for Maison Design, and importing containers from overseas also means that the business will sometimes need to go a few months before they will see a return on investment from new stock.
"I've had periods of a few months where it was hard in terms of cash flow. Recently I had a lot of trade accounts which I was giving 30 days to, and at times I went for weeks without any income.
"We bring in containers from overseas. Financing containers to come over here can be quite draining because you've got a lot of money tied up, not just in the stock, but in the freight costs. Each container costs around five and a half grand to finance, just for freight. Sometimes you need to fall back on a little bit of finance until you can recoup the funds for the product that you're selling. That's where I turned to Moula for a bit of help.
"For us, May through July are the dark months. It goes quiet in winter, which is another reason we're trying to go into the commercial market to try and cover the troughs."
Running full speed for seven days a week
As with most business owners, Merchant probably hasn't quite yet found the secret to striking the perfect work-life balance. However, being fully dedicated has also contributed to some of his best ideas.
"The last three years have only been work life. I work seven days a week and I think at this stage of the business I need to. I'd like to say that everybody should have a bit of a break. But when you own the business and you are the business, you have to be on call. You learn to live with it. Don't get me wrong, I still have a life, but anyone who's in business very well knows, you go to bed at night, and when you wake up you're still thinking about the business. Some of my best ideas come at 4 o'clock in the morning. You wake up with your mind ticking at 100 miles an hour."
Lessons from the flaming ball of the global financial crisis
Asked what he'd wish he'd known 20 years ago, Merchant had a word of warning about getting complacent when things are going well:
"Back in the early 2000s was a really good period, and when that happens, you become very complacent with running the business. We had been on the incline for many years, and then when the GFC happened, everything crashed in a flaming ball. You become complacent when things are going well, and think that everything is okay, or that things will get better soon. We didn't think it would last this long. Even to this day, the vibe is that people are unsure of the future, and it affects their spending.
"I wasn't very tight on the structure of the business in terms of staff and spending, and ensuring a return on investment. When a crisis happens, you quickly got to learn to restructure and re-evaluate and learn from your mistakes."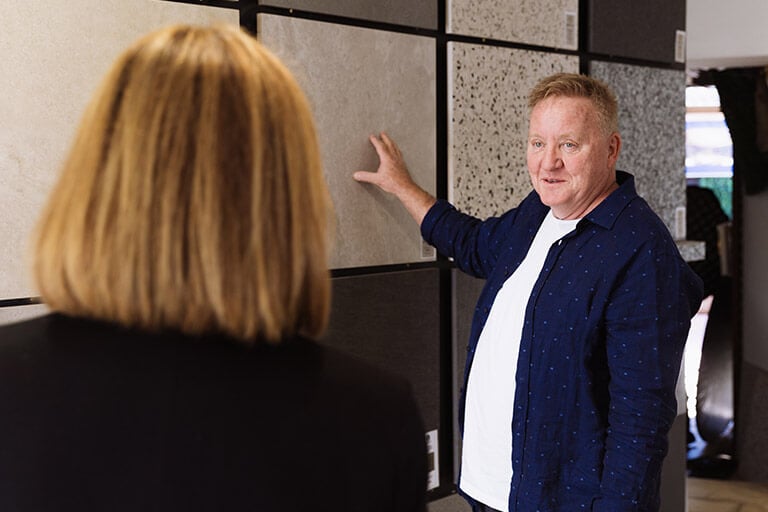 Parting words of wisdom
Having run his own business for over two decades, Peter has advice for business owners starting out:
"Do your homework. Study your marketplace. Obviously, cash flow is a big deal. Do everything on a shoestring budget because you'll always have costs which you didn't expect. Do market research and ensure there's demand for your product and its a product which people really need."
Liked Peter's Good Business story? Read his cautionary tale of The One Where Maison Design Had a $28,000 Crash and Burn in our series of Catastrophic Muck-Ups and How to Avoid Them.