From beading to a budding fashion label, Natalie has been grinding and hustling since she was 23 to grow a business that is now sought by women around the world.
Spinning transferable skills from a passion
In 2012, Natalie Alamein dedicated her energy to starting a women's fashion label. She'd grown up in a family bursting with entrepreneurial flair and a ferocious work ethic. Many of her family run their own businesses so there was a strong desire from a young age to start her own business.
"I started in fashion really young. I was making jewellery at the age of 12. I was obsessed with beads and collected them from all over the world. My heritage is Lebanese, so anytime any family travelled to Lebanon, Syria, or anywhere in the middle east, they all brought me back foreign beads. I developed a strong love for collecting all these little artefacts from around the world and started making and selling my jewellery at the markets. I had my first market stall at Bondi Beach when I was 14 years old, and my first registered jewellery business stocking a few shops at 15."
Growing a hobby into a business
After a few years working on her jewellery, Natalie went straight to the source and began working at a bead shop at 16. As part of her role, she ran workshops teaching people how to make their own jewellery. After school, she'd developed a laser-focus on starting her own label.
"After high school, I studied at East Sydney TAFE – a renowned fashion school. Straight after that, I did a lot of interning for different brands and then I just thought, I really need to just jump into this and learn things the hard way."
Harder but better
Natalie was super eager to get stuck into running her own business and thought learning on the job was the best way to grow. She was right, but it was harder than expected. Along the way, there's been the usual mix of triumphs and lessons. But she learnt to trust her gut, which led to one of her most successful products to date.
"I got most of my experience in the rag trade from this label. I was quite determined when I was younger and thought that I would save time working for myself rather than working for a label for five years then starting my own.
After interning for a bunch of labels I was tired of not getting enough experience and doing basic jobs with no income, so I left. Looking back, working for another brand before starting my own label would have been beneficial and saved me a lot of mistakes. But I stuck it out and while it's been much harder but it's been better. I did lose my 20s to it but I'm 30 now and have gained so many life and business skills."
The importance of having the courage to fail
Working on her own, Natalie had to learn to trust herself and follow a hunch when she thought it was a good idea. She's had her share of failures, but one such hunch resulted in one of her most iconic and successful product to date.
"One of our most recognised products is our 'mismatched shoe'. Three years ago, I took a gamble and produced a range of shoes that didn't match with hand sewn tassels on them. When I first put them in the shop window of our Bondi store, customers would come in and ask to try either the left or right shoe on. I had to explain that they came together as a set, most people gave me a strange look or explained their OCD would not allow it. Gradually the shoes took off and now we see them worn in the street everywhere, we send them all over the world and stock a lot of shops.
It's really important to believe in your product and try new things, which is also a double-edged sword. Even though I got a lot of products right, a lot of designs and products have missed the mark, but that's just part of the learning curve in any business."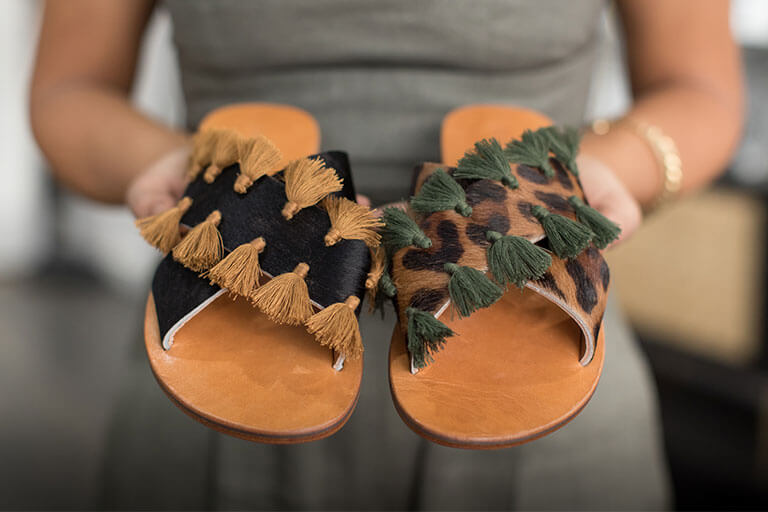 Avoiding the perils of growing too fast too soon
Natalie's been contacted a number of times by huge international retailers asking to stock her products. It sounds like every designer's dream, and it is, but it comes with a huge amount of pressure and work. Ultimately, Natalie had to say no, and it probably saved her business.
"We've actually been contacted by a few big international brands. I guess the struggle with winning them was that we weren't ready and they wanted a fast fashion brand that could deliver season after season quickly. We just were too small to make it work at that time, but those struggles – growing too quickly, having a great product but not being able to meet the demands for each country, each season – can sink a business.
It wasn't so much that we knocked them back, it was that they're just too big for us – too demanding.  We couldn't bring them new products every three months. They also wanted more commercial packaging and when we were a small business, that was a huge expense at that point in time."
In it for the challenge, not the reward
Natalie was under no illusions when she started her eponymous label. Her family's entrepreneurial background came with enough cautionary tales to quash any misplaced dreams of business ownership being a breeze. Because she knew it would be hard, she knew she'd need to enjoy the journey – not just the destination. That is, enjoying the day to day challenges, not just the outcome – money.
"Starting a business never had anything to do with making money. It was this burning desire inside of me – this obsession – with textures and fabrics and travelling. I was obsessed with how things were made. I wanted to see factories; I wanted to see how things were made. Beautiful lace, beautiful buttons, customised everything, I was just drawn to it. I flew to Hong Kong, Vietnam, China, Indonesia, and India – I searched the globe for factories trying to find the right ones that could make my product and allow me to make the quantities I wanted and the finishes I needed."
Understanding her customer
Natalie lets herself be guided by personal taste but makes sure her products' style is accessible and appealing to her audience.
"I'm drawn towards all people and cultures and love to explore interesting textile traditions. Combining these old traditions with modern cuts is a personal love. Over the years we have become well known for quirky, fun and sometimes quite loud accessories and garments. Over the last five years, we have produced thousands of handmade tassel earrings with beads I collected from every crevice of the world, including beads from my childhood collection.
We see women of all ages come through our store and buy online – from 20-year-olds to 70-year-old women, and all with a strong personal style. We have a strong local support but also a really strong international customer that visits Sydney frequently or the customer that visits us, accidentally pops into the store and falls in love with the brand, then goes back home, wears the product and then all her friends buy it. Or she visits us every year when she's in Sydney."
The ever-changing face of challenge
As a business matures, the challenges the owner must overcome change in kind. A combination of changing focus, being in a different phase of growth and the demands that come with that, and shifting priorities all impact the nature of the business. For Natalie, the challenge is now designing products that still satisfy her critical creative eye and fit women of all sizes.
"For me personally, good design is all about the thought process behind the product. I love that so many different personalities, shapes and sizes can find joy, comfort and excitement in the same garment. All that stems from the careful thought that goes into every part of the product's development.
Along the way, my business became about sustainability. It changed from being about my passion as I entered a commercial, financial reality that demanded I make good decisions. It's easy to start a business, but it's really hard to sustain it. The passion is a part of me – it's always going to be there –but you need to be smarter about your passion because it turns into something less personal.
When you're starting out, it's really personal. You pick why you do this and why you make that based on your preferences, but then when you have a shop front on Bondi Beach and you have different people coming into your store from all different walks of life, you need your products to sell to all those people. You have to find a way to make products that you still love, and all these other people like too."
Further learning on the job
The early days of running her business were exhausting. The 5am morning starts and labor-intensive nature of running  a market stall took their toll. This stress was compounded by the production issues Natalie faced as she learnt how to work with factories.
"It was exhausting in the beginning . My tafe course was focused on design,  you had all these amazing students working really hard, creating magical garments and dreaming about becoming designers, but not really learning anything about business – not learning anything about the real world. It was a setback so when I jumped into production, although I had great knowledge of fabrics and design I hadn't learnt about how brands manufacture, how they actually make a product. The timings of when the product is produced, advertised and sold. Even how to market your products. From the beginning, I had to learn everything the hard way."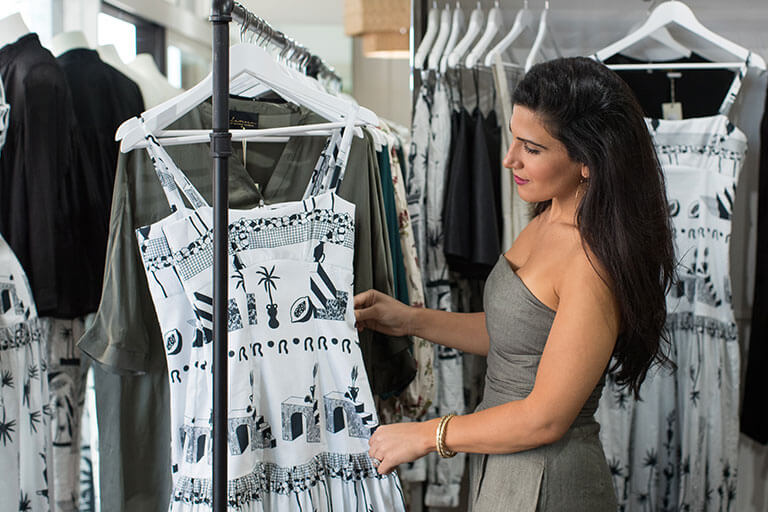 Finding a smarter way to work
Working smarter requires equal parts of being open to the idea that there may be a better way of doing things, and resilience as you endure the tribulations of the experiments on the way to discovering a smarter way. Natalie improved her business efficiencies incrementally over a number of years.
"In those early years, I was a lot younger so, although I had a lot more energy, running a fashion label completely on my own was exhausting and took its toll emotionally and physically. I think you learn how to work smarter but that doesn't come overnight, it only comes when you're an expert in your field and only then you know how to cut out the unnecessary processes and get straight to the core needs.
We work with people who are diligent. I'll test a factory by doing one or two styles with them. I give them everything they need, we do the cut, the samples the patterns, we pick the fabrics, and we test it all. If their production still has flaws, I won't work with them again. I work with people that have good values and families. I prefer to work with smaller businesses, because they have better attention to detail. We also like to work with factories that work with natural fabrics, embroidery and handmade techniques, it means they know how to really construct garments and the finishes beautiful garments need."
Cash flow and supply challenges
Unsurprisingly with a seasonal business, Natalie experiences cash flow challenges. Managing an entire supply chain means there are more opportunities for delays, which exacerbate cash flow challenges and can catastrophically derail launch dates and sales projections.
"In summer, we never have enough stock. And in winter, we have too much stock. We're quite a tropical brand – we find that people in Sydney aren't big shoppers in winter. Like all businesses, there are always external factors that can cause disruptions like Ramadan in India and Indonesia where factories shut down during the religious holiday and this affects production schedules too."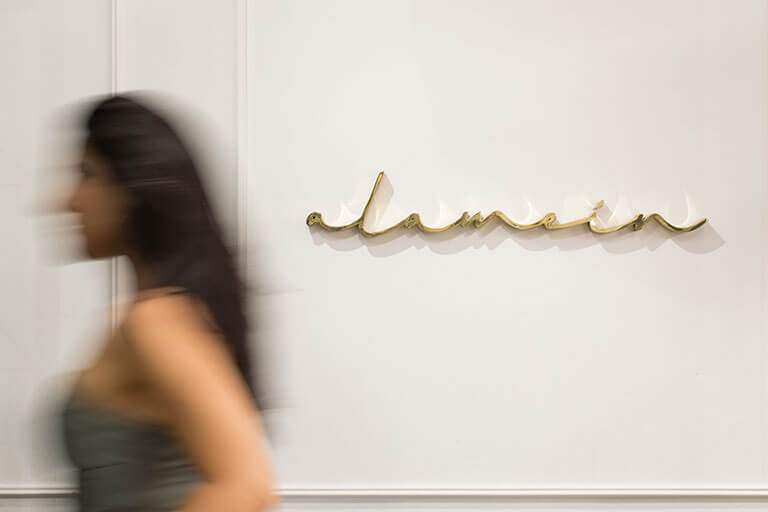 Staffing things up
Natalie's approach to finding good staff is simple – she looks for people she gets along with, and people who stand by their word. Her approach is to find people with a background in fashion because they're generally keen to learn and because of this, they have a robust work ethic. Funnily enough, most of the time these people are customers.
"Hiring staff can be really difficult and most businesses find this is one of the hardest issues in running a small business. Unfortunately, the only way to hire the best people is to hire some bad ones and learn what you actually need and want in a person working so close with you. I don't recommend ever letting someone run your business for you because they have experience in running someone else's business. Every business is unique and different to another even if they are in the same industry, hiring the wrong person can ruin years of your hard work and hiring people with different values or lack of business knowledge can really work against you."
A quality foundation
Quality underpins all of Natalie's creations and she has her mother to thank. From a young age, her mother showed her how to differentiate well-made clothes from cheap quality.
"She'd take me shopping and show me how to differentiate quality from fast fashion, She'd show me a French seam on a beautiful silk garment or lace detailing and how it was hand sewn on. She'd point these things out then naturally I'd gravitate towards the finer things in life. So there's all these background reasons as to why our products are made the way they are or why they have a particular stitching or why it sits the way it does. There is careful curated thought into all the construction of our garments and accessories."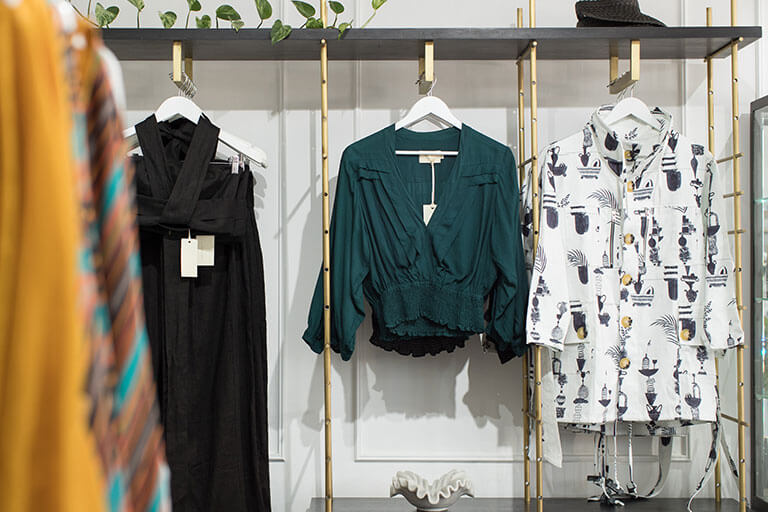 Investing in quality control
Natalie invests a lot of time and effort in quality control and the construction of how the garments are made. Ultimately, it's a powerful point of difference to the quality of fast fashion trend based labels, but it also helps expedite the sales process in store. She notices that once customers feel and try the garments on, they've basically made a decision.
"The sampling process is huge, it takes months – sometimes over a year – to truly get collections and garments right. The style, fit and fabric need to harmonise with each other and this process is challenging. The pattern-makers and sewers can get really frustrated with me changing my mind so much but that is only because I am dedicated to only achieving the best outcome. The product has to be beautiful and functional at the same time."
An unlikely lifeline
Running a business on your own provides absolute freedom and total ownership over every aspect of it. But it gets lonely and stressful, and as tasks pile up in the 'urgent' pile, you can't turn to anyone for help. And years of running the entire business on her own took a toll on Natalie. She was feeling burnt out and began resenting her business and the way it dominated her life.
"I think when you're younger you want to be ambitious and successful and you do whatever you can to make that happen. I realised that when I was about 23 and just starting out. I was like, 'I really don't want to live paycheck to paycheck'. I started this to have something that I enjoyed doing and for it to be my future. Along the way, it's definitely made me re-evaluate what work-life balance really means.
Working too much is really soul destroying – it can change you as a person. All the pressure of having constant emails and bills and payments can have a big impact on you. There's a lot of pressure having your own business, especially if you're designing, manufacturing the products, and running the business, working in it, managing staff and all the other small business problems."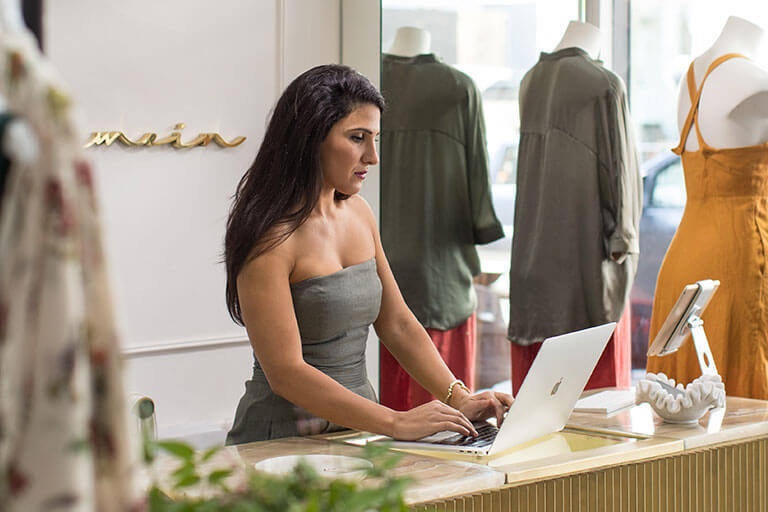 In search of work-life balance
As Natalie continued to battle against the oppressive work hours and struggles of running the business on her own, an unlikely hero stepped in and changed everything.
"My partner Steve joined the business a year and a half ago and it's been the best thing to ever happen. He has taken the brand to another level and invested so much wisdom, strength, love and passion into our baby or as we sometimes like to call it 'the beast that needs feeding'. Everybody asks us all the time, how do we work together, and we both know we are so lucky that we do work well together.
But there's no doubt about it, our relationship does suffer because there's no escape from work. My heart beats fast if it's after 6pm and we get an email. I'm like, 'Oh what bill is that or what's been delayed?'. There's always bad news and you just have to learn that's part of the journey. We would like to eventually only be online and wholesale, which would mean that we could start a family and also live overseas at some point and remove some of the stress from our lives."
Honest advice for prospective business owners
Natalie's advice for people contemplating starting their own business may be somewhat coloured by years of exhaustion, but behind her initial warning, there is, unsurprisingly, a clever way to work smarter.
"Advice for people starting out? Don't start a business, haha. No, Start online. Build a website and have an online social presence, feel your way through that. Don't spend loads of money on product before you know it's going to work and before you test it out because you could get stuck with a lot of stock, which means a lot of cash tied up until you can sell it. It also means storage space and, like time, space is money."
Long-term goals
In a year defined by valuable lessons, Natalie's excited by the year ahead and her future plans. As her partner helps focus their energy and ease the pressure, Natalie's ready to pursue her passion with renewed passion.
"Long-term goals would be to only work four days a week and selling only online and wholesale. For the moment we are not far off having our complete range available online with the launch of our new website in coming months and thereafter our whole range available for wholesale. We are really focused on making our brand available worldwide. I want everyone to have access to all our products anywhere in the world."