In April 2016, Martin Kirby quietly set out with the immodest goal of stoking the narrative around ethical clothing in the Australian retail market. Before opening Godspeed, he dropped out of high school, started a hardcore punk band and toured the world for ten years, visiting over 40 countries. As he celebrates two years in business, Martin reflects on the lessons he learned along the way.
Following a lifelong passion for Japanese culture, Martin opened Godspeed – a Melbourne retail store specialising in heritage-quality Japanese selvedge denim, apparel and accessories. Martin's story is unusual – he dropped out of high school, started a hardcore punk band and toured the world for ten years visiting over 40 countries, before opening Godspeed. As he celebrates two years in business, Martin reflects on the lessons he's learnt along the way.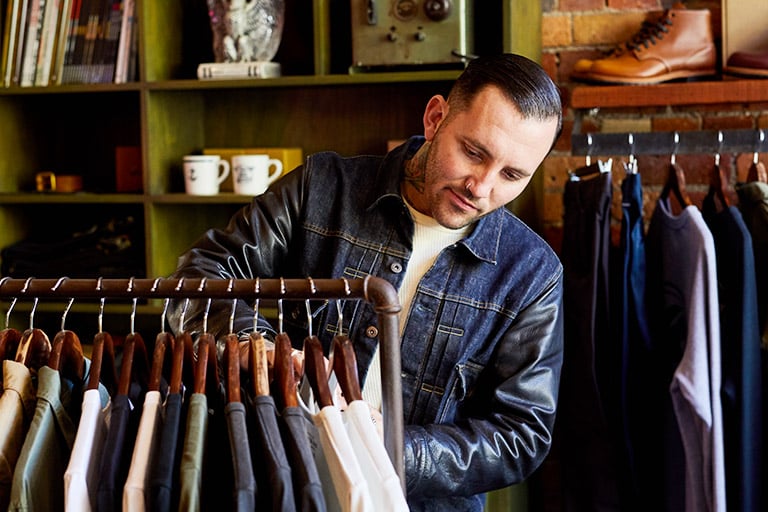 A punk start in business
A career in music is more commonly accepted now. But investing your time, energy and every spare dollar you own into an unpopular fringe genre in the early 2000s simply wasn't acknowledged as anything more than a hobby. Despite this perception, Martin started a hardcore punk band with a bunch of mates on the Mornington Peninsula where he grew up. From small beginnings and even smaller shows, Carpathian grew to become one of Australia's biggest punk bands, touring up to ten months a year for over ten years. In fact, Carpathian built such a cult following around the world, Martin is still contacted and asked if he'll get the band back together – an improbable if not impossible task, he says.
"When I started Carpathian, hardcore punk wasn't really a thing in Australia – we were playing in front of fifteen people. Ten years later we played in front of 30,000 people."
As the band's following grew, the lessons began piling up as he scrambled to learn how to manage budgets, negotiate pay and how to plan for future expenses. It also gave him his first taste of rejection from the big banks.
Do what you love (and outsource the rest)
Martin uses a simple combination of tech tools to help streamline Godspeed's processes. The time he's saved by using certain e-commerce tools has given him a strong ROI.
"I don't love accounting, so I was keen to use Shopify from the very beginning, no matter the cost. I use a few apps within Shopify too – including the Xero app – and they all speak to one another. I sell something on Shopify, it sends data to Xero, which I can link to Moula – it's just so painless. Paying $20/month to avoid dealing with heaps of e-commerce work is a bargain in my mind."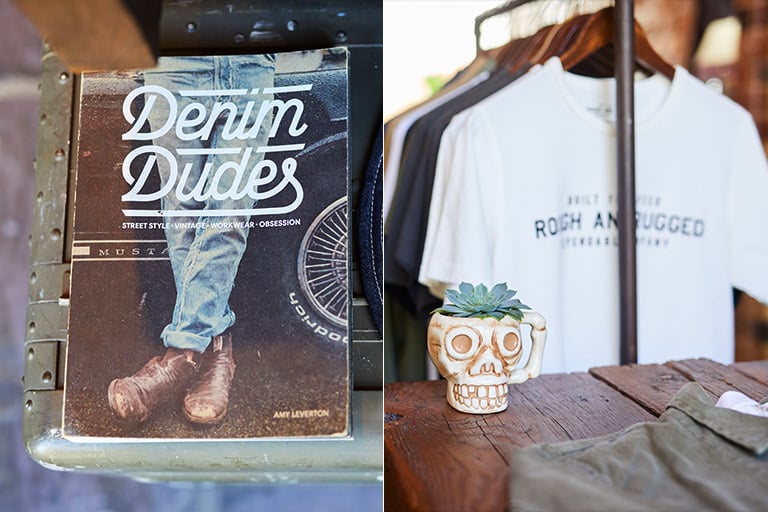 As Godspeed soars into its third year in business, Martin is more energised and inspired than ever to continue the store's growth. While the learning curve has flattened from the early, white-knuckle days learning as he went along, his thirst for knowledge keeps him busy.
"When I was starting out, I wish I knew how hard it was to secure financial support. The banks run around saying 'we're giving $2billion to small business' so you think, great, here I am! I thought it'd be a lot easier. Just be in business for a while and then show them financials and away we grow. There are so many small businesses in Australia – it's really competitive to get a loan. I looked into getting a guarantor for a loan and I was told by one of the banks the guarantor needed to own two houses – one wasn't enough anymore. It can be so difficult to find financial support.
I've had to grind and work to build up revenue and grow. I've never had a normal job or a traditional lifestyle and so much business support is designed for the nuclear business owner. Those who finish school, go to university, meet someone, you both find good jobs, you save for a house and then you can access loans. If that's not your path in life, you're in for a much tougher ride. If you approach business in an untraditional way, you're going to have a hard time getting funding from one of the big banks."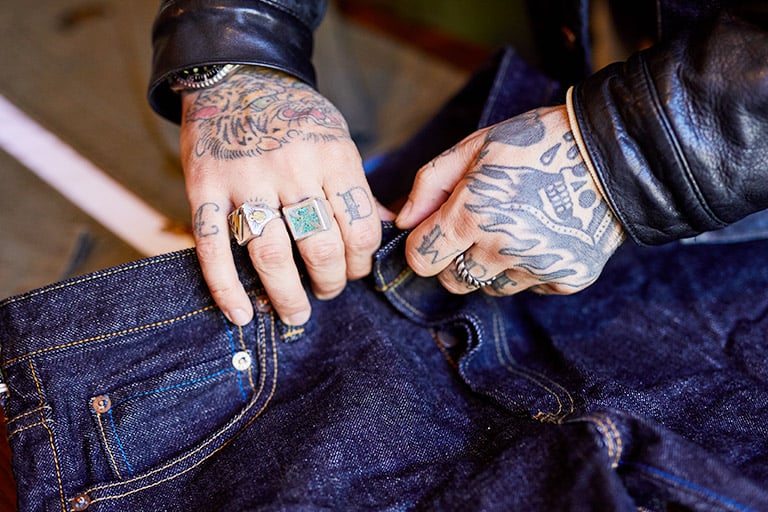 Turning passion into business
Godspeed's focus on Japanese-made denim and apparel comes from Martin's lifelong obsession with Japan. He grew up on Victoria's Mornington Peninsula. Even as a kid, he dreamed of travelling to Japan and hoped to live there one day. He doesn't know why he was so obsessed with Japanese culture, he just remembers collecting Bonsai and a deep fascination with everything Japanese. As it happened, Martin travelled to Japan often with Carpathian, which only stoked his interest in Japanese culture.
"I've had an affinity with Japan since I was a kid. So to travel there with the band was awesome – I loved it. The first time I travelled there I immediately started trying to work out a plan to move there. But I'm covered in tattoos, which complicates things too.
So, I became a snowboard instructor in New Zealand – they have some of the best training in the world. I got to level three certification there and began a cycle of endless winters between New Zealand and Japan, spending the rest of my year in Tokyo. It was there that I met the amazing people running the brands I stock in Godspeed. I realised pretty quickly I wanted to introduce these brands to Australia."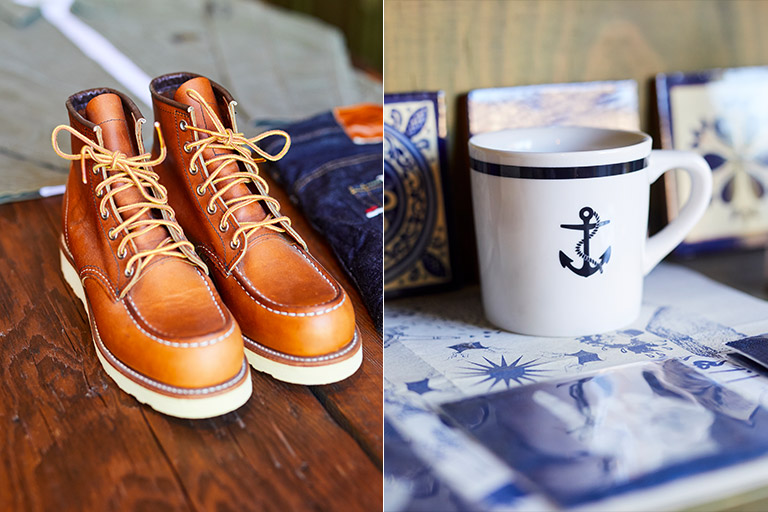 "I want people to rethink their choices. If someone's wearing a $300 pair of Nike runners but question why a pair of handmade leather boots are $460, I like to get them thinking about why that might be the case. I want people to question where their clothes are made – big brands especially."
Good business demands strong ethics
Godspeed celebrated its two-year anniversary on 13th April 2018. And it was more than just a milestone for Martin. It's proof that his unorthodox approach to business resonates with other people and simply works. Martin's approach to business is ethics first. Every brand in his Brunswick Street store is ethically made and sustainable.
"Godspeed's stock is dictated by a strict code of ethics. It's a shout out to my hippy/vegetarian side, because all my brands are ethical and better for the environment and your wallet, because they're made to last. Japanese brands tend to do ethical manufacturing really well, but not all of them do. Generalisations only get you so far. For example, I stock a Chinese denim brand and it's super high quality. The founder worked for a Japanese brand, he imports American cotton, weaves the denim himself and uses Japanese hardware, but it's made in China, which has a certain negative connotation to it. I like to challenge people's perceptions and get them to think a bit deeper about the ethical nature of their clothes. Australia's a long way behind a lot of countries when it comes to ethical fashion."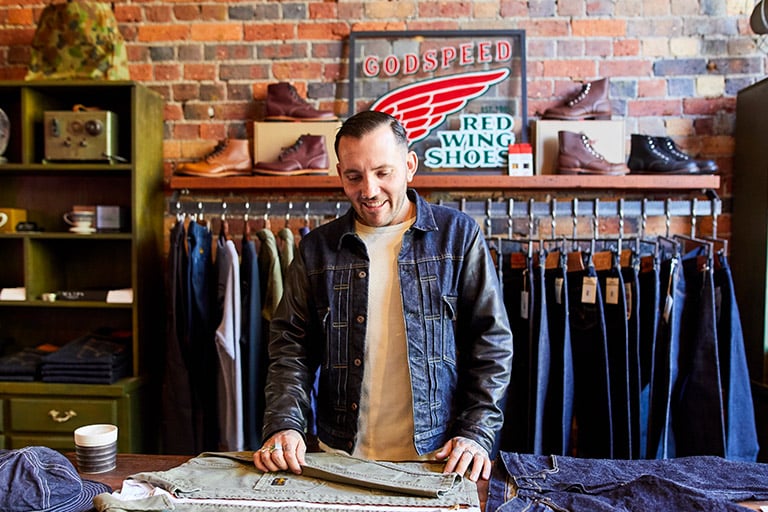 What's in a name?
"In short, the name is informed by music and Japan. There's a Canadian post-rock band called 'God Speed You! Black Emperor' – I play it in the store all the time. They got their name from a Japanese motorcycle gang of the same name.
There's a culture in Japan called the 'Bōsōzoku' – they're these dudes who ride around on big motorbikes with Japanese flags on everything and it's not really a bike culture but this punk, rebellious teenage movement that was huge in the 70s and 80s. They do these crazy manoeuvres and fight with the police and can play the national anthem by revving their engines – thousands of them would ride up Mt Fuji in the summer.
The Godspeed logo is actually a rare Samurai family tree insignia that I've modified to incorporate rope and a Peregrin Falcon, which is called the Hayabusa. Suzuki brought out a bike called the Hayabusa, which was the fastest in the world, just as the Peregrin Falcon is the fastest animal in the world. In a lot of cultures, this bird has connections with deities. Godspeed is also used to wish people good luck too as in, 'Godspeed on your journey'."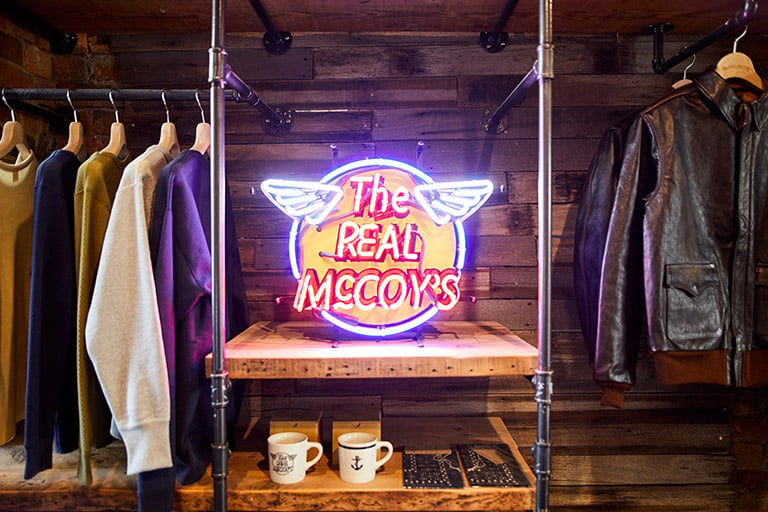 Illuminate your blind spots
Martin cuts an imposing figure. Between flashes of his beaming smile, his face looks stern in concentration, before his smile returns once again. Predictably, he's always dressed impeccably, with colourful nods to his punk past and life-long passions peeking out beyond his collar and cuffs. But if you're thinking he has the kind of brash bravado synonymous with rockstars, you're well off the mark. In fact, Martin says one of the keys to his success has been his ability to acknowledge his short-comings and gaps in his skill set.
"One of the things I'm proudest of is knowing when I'm not good at certain stuff. I'd rather spend time on the things I can make a positive contribution with – like the photography side of things – and pay an accountant to do that stuff I'm not passionate about. When you run your own business you naturally become interested in the 'business side' of things, but it's crucial to find people who are passionate about things you're not."
Cash flow and funding woes
Martin's punk path into business has made it difficult for him to find a loan – the banks must be more into soft rock or André Rieu. As with all retail stores, he has a lot of money tied up in stock, which creates some regular cash flow woes. Cash flow restrictions are frustrating when a brand releases a new season range, or an opportunity to stock one of Japan's most highly sought-after brands pops up.
"I've spent the last 10 years in a punk band, so I can't get a bank loan. I don't have a credit history. I lived overseas so I don't have anything the big banks need to lend to me. There are so many challenges for small businesses that are about how to take that next critical step in your growth and that's where the Moula loan helped.
The actual people working in big banks really want to help, but they don't make the decisions – a computer does. And there are so many hoops to jump through and at the end of the day there's a computer there looking for money in a bank account and if just one of their boxes isn't ticked, you're out."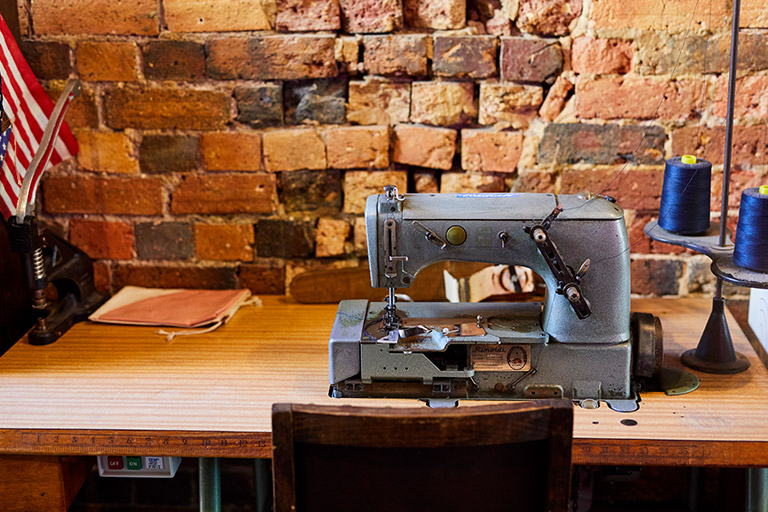 "My initial loan with Moula helped me secure distribution for a really great brand – The Real McCoys. A mentor confirmed what I believed – that this brand will create a lot of opportunity for the store long term. But in the short term, there are thousands of dollars tied up in a couple of jackets, so cash flow rears its head again.
So often timing is critical to getting wins on the board. A golden opportunity might pop up and if you have to try to get a loan from one of the big banks it'll take ages and they don't care about the potential in the opportunity, they just want to see your books."
So why is Japanese denim so good?
"Japan is a bit of an obsessive culture. There's a documentary called Weaving Shibusa that gives you an understanding of how much craft goes into Japanese denim. The guys in that doco established the reputation and prestige of Japanese denim and many of them are now friends and the owners of the brands I stock. The denim culture popped up after WWII amid the fascination with American culture. It was a strange kind of anti-establishment, punk revolt against traditional Japanese culture. They became obsessed by the vintage Levis the soldiers left behind and when they started becoming scarce, they set out to recreate it.
Around 1993, Japanese denim started getting really bloody good. My mate Mikiharu Tsujita (Miki) from Full Count was a pen pal (yep, pre-internet) with people all around the world and he sourced a bunch of Levi jeans and pulled them apart and analysed them in detail – right down to the staple length of the cotton (the length of the cotton fibres), which is pretty microscopic. After a lot of research, he discovered that Zimbabwean cotton had a longer staple length than American cotton, which was closer to that used in vintage denim.
Along with the 'Osaka Five', he helped revivify Zimbabwe's cotton industry. A few years after this boom, having created thousands of jobs for the cotton farms, Miki received a letter from one of the cotton growers thanking him for all the business and shared his intentions to buy a machine to harvest the cotton, but that would've destroyed the integrity of the cotton fibres, so Miki had to ask him to hire more people instead of harvesting by machine. Japan has a whole heap of vintage cotton looms and denim machines. Every pair of jeans has about 15 machines working on them and each machine is run by an expert with a fierce eye for detail."
Work-life balance
While cash flow is Godspeed's biggest business challenge, there is another that weighs more heavily on Martin – the all too common problem of work-life balance. When asked what advice he'd share with others thinking about starting their own business, Martin said expectations are critical as is knowing when to outsource tasks. If you're ready for the highs and lows, it will make them that tiny bit easier and you may even be able to avoid some challenges.
"There tends to be a romanticised notion of owning your own retail store, but it's a business and that can be stressful. I think the most important thing to consider before starting your own company is being prepared for the peaks and troughs and being ready to do a lot of work all the time. It's also critical to know your strengths and weaknesses and knowing when to outsource certain tasks. It's worth calculating the true cost of accounting or marketing or whatever you don't know much about, or don't enjoy."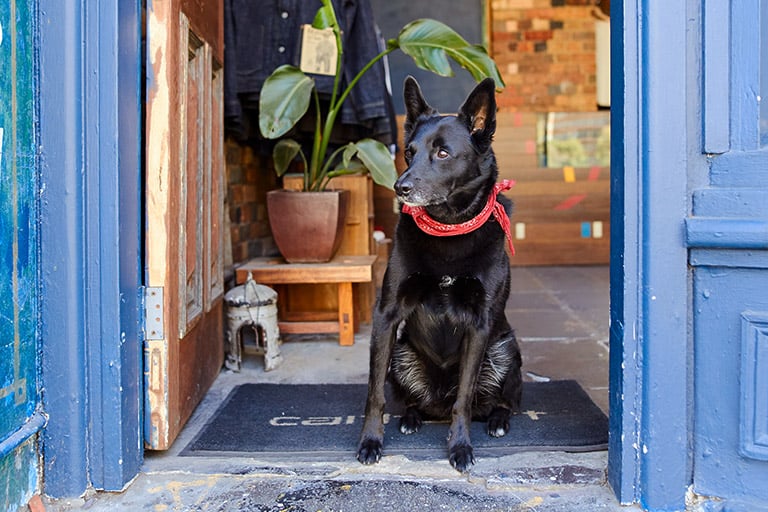 "I've always sought out external advice and expertise. I recently met a guy who retired after running a salon for years and I chat with the guys at my local café and they all have some great insights about different areas of business. The most unexpected challenge has been personal factors influencing the business. Sometimes it's a housemate moving out, a laptop being ruined by an errant cup of coffee, or staff leaving – all this has a huge impact on my business, which means I may need to pay an invoice late. And that sucks because I believe in building relationships in business and having to delay paying an invoice negatively affects that."