Running a business always felt like a distant dream for sisters Emily and Jenna Hutchison, but now they wouldn't have it any other way.
Co-owners of Hutch ("hutch."), Em and Jenna, fell into business ownership rather quickly when the previous owner of the Geelong-base clothing boutique (then called Peach Boutique) notified the girls that she would soon be selling.
At the time the owner was stocking the girls' candle brand, Love Ludie, and it was during a routine stock drop off that she mentioned she was thinking of selling the store. Both Em and Jenna immediately thought: 'We're going to buy this place'.
"It was only then that we actually thought of it as a reality. It all happened very quickly, it was just over a month between deciding this is what we wanted to do and having the keys handed over", says Em.
The girls put their stamp on the business when they renamed and rebranded as hutch., after almost three years of working under the old store name.
"We felt it was pretty risky changing a store that has been in this location for almost three years but we've had such positive feedback come through from both new and old customers. We wanted everyone to love hutch. as much as we did and the amount of support we have received from our customers has been amazing", continues Em.
Since taking over hutch., Em and Jenna have focused on customer experience, injecting their own personality into the store and creating a relaxed and friendly atmosphere.
"I've been into so many stores where I felt uncomfortable or pressured into buying something. We are very relaxed and try not to take life too seriously and this is how we get to know our customers", says Jenna.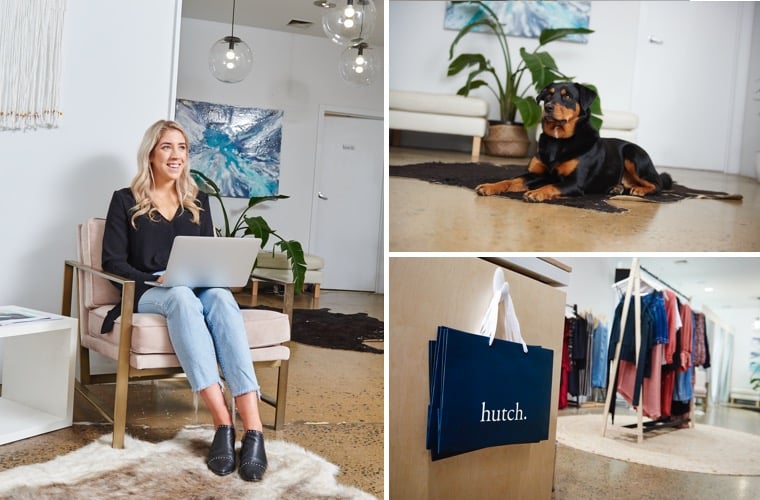 Em and Jenna jumped ahead of the curve and shot hutch. straight into the digital world. Along with the launch of their online store, they use social media as a way to engage with their customers, promote their brand and generate sales.
"Social media has a massive influence on how we sell our product; it's how we engage with customers and how customers know what sort of stock we have. It's a powerful tool for our business and the launch of our online store wouldn't have been nearly as successful if we weren't as active on Instagram", says Emily.
Larger clothing chains are also heading into the digital space and massive online-only retailers are starting to dominate a lot of the market. However, Em and Jenna are confident that hutch. will retain its personal, customer-driven niche. They strive to differentiate themselves from massive online retail stores by providing a personal experience, both in store and online.
"I often get overwhelmed by massive online retail stores. There is too much product and too much to choose from. There is still a big customer base that likes to shop in store, try things on, know what the fabric feels like and have that in-store experience. We really like to provide a personal one-on-one experience, that's why we leave our online chat on 24/7 so that customers can talk to us about our product at any time. Having that point of difference and knowing what our customers like and staying true to our store is what will help us remain focused", says Em.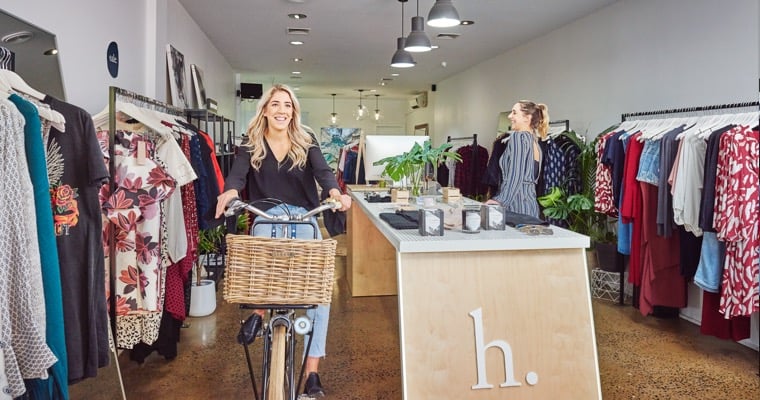 Now that Em and Jenna have a taste for business, they are setting goals for themselves and have their eyes set on expansion at some point in the near future. However, while they've set big goals for themselves, they're not letting themselves get caught up in big future plans and focusing on the short term as well.
"We would love to open a second location in the near future, but the growth of our online store is most important to us right now. Increasing our international customer base and social media reach are both crucial elements in building a solid foundation for our business. Once we've got those in place, then we can reach our goals of expanding", says Jenna.
Like many business owners, running hutch. is a full-time job for Emily and Jenna. Since first starting, they have learned to prioritise their time and efficiently delegate tasks between themselves.
"If it takes less than five minutes: do it now. Make to-do lists so that you can focus on what needs to be done based on priority. I have become the most forgetful person and often take on too many tasks at once. Keeping lists definitely works! Delegating tasks to other staff members and not attempting to do everything on your own is also very important", says Em.
Looking back now, Emily and Jenna couldn't imagine doing anything else. They have a vision for their company and are working towards it every single day.  Thinking about what they've already built and their dreams ahead for the business keeps them motivated.
When reflecting back to their first steps into hutch., the girls appreciate just how far they've really come. They've learned so much and know now that there is no real right time or right way to start a business, you've just got to take the plunge.
"You will never really be 'ready' – there is no better time to start than now. Even if the pathway isn't clear yet, the best thing you can do is start networking and figure out what needs to be done to achieve your goals. Your motivation, passion and love for your business need to be the driving force in order to grow and succeed", says Jenna.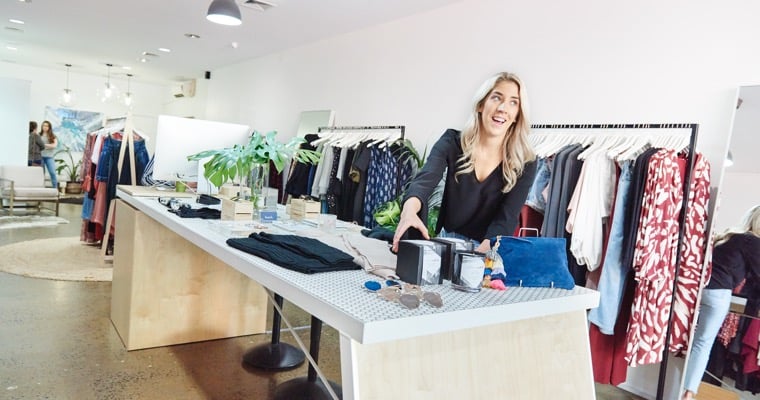 "You have to learn to make the hard decisions and, importantly, to say 'no' when you think something isn't working. Whether it's an employee, a stock list – you have to know when to let go and put the business first", continues Emily.
Like many small business owners, Em and Jenna got their business off the ground entirely on their own, with little to no government assistance. However, they believe that this independence will soon be a thing of the past as more people are becoming aware of the value of Australian business and organisations are doing more to help small businesses grow.
"We've had little to no support from the government, however people in Australia are slowly becoming more conscious of how things are made and produced and the effects they have on the environment and economy. People love locally made and operated businesses, as they are usually the ones who are environmentally and economically conscious! There are definitely people that will still latch on to mass online retail chains; however, there are still a lot of customers who want a personal in-store experience, and they'll turn to local businesses for that", says Emily.
Emily and Jenna are quietly confident in the future of Australian small business, particularly with the growing support from various organisations and the wider networking abilities of social media channels.