Risk management is a big deal, if you want to:

Pay less for insurance and avoid steep price increases

Avoid legal action by staff, customers and others

Reduce business downtime

Minimise losses of cash, stock and other assets. 
…and who wouldn't want all of that? Here we'll look at the types of risk faced by most small businesses and offer tips to lower the level of risk.
Where risky business might play out
To simplify the risk assessment process, it helps to categorise areas of business risk. These include risks connected to:
Customers

Suppliers

Staff

Key personnel

Intellectual property 

Financial transactions

Competitors

Markets and economic factors

Legislation and regulation.
…now let's work out how to overcome these.
Diversify your customer base for risk management
The saying 'don't put all your eggs in one basket' is a classic risk metaphor. Sometimes, as you're building your basket in business, it just happens like that. And then some things may start to crack. For example, depending too heavily on one or a few customers may put your business at risk. If a large customer takes its business to another company or experiences financial difficulties, it can put a dent in your bottom line. 
There are several ways to mitigate this risk. First, work on diversifying your customer base to include a range of businesses. If one of your customers goes elsewhere or cuts back on spending, you will still have other customers purchasing your products or services. Second, work on getting customers who are willing to sign long-term service or supply contracts. Third, make sure your business delivers positive customer experiences to build loyalty.
Build relationships with suppliers
Getting a supplier to sign a long-term contract is good. Building a relationship with a supplier is even better. But building relationships with a couple of suppliers should be your goal. If risk management teaches us anything it's that you should always keep things in the wings. For example, a manufacturing company that relies on one supplier for parts will be at risk if that supplier can no longer provide the essential parts. Or, maybe your supplier faces a shortage and you need to find an alternative quick smart – always have a backup plan.
'Back up' your people and processes
Technology, we're sure, has a plan for us all, but people aren't quite 'backed up' to the cloud just yet. When a business loses a key employee, sometimes a lot of smarts goes with them. Future-proof your business by introducing cross-training, job sharing and job rotation. Succession planning isn't just for business empires, it's actually even more important for small business. Pool your resources to keep a record of important policies, procedures and their workflows. If there's a lot to note down, consider getting on the tools and using collaborative tech to streamline processes.
Get smart about intellectual property for risk management
Just the other day, Gabriel Gewargis of The BBQ Store was telling us how, after five years, he has finally come out the other side of a trademark battle involving his business name. He was first. And everyone knew he was first. But it's a hard sell in the courts when you haven't got the right protections in place. We're talking about copyright, trademarks, patents, you name it. You can start by conducting a risk analysis of the IP your business owns and relies on. For example, registering your business name doesn't necessarily stop others from using it. You need to have a trademark to fully protect it. Also, if you have invented new technology or processes, a patent could be the way to protect your innovation. Find out more in Protecting Your Intellectual Property. 
Keep your name in good stead
Words from the wise, "it takes 20 years to build a reputation and five minutes to ruin it". The famous investor Warren Buffett reckons if you think about that, you'll do things differently. Reputation isn't one and the same as goodwill, but they're inextricably tied up. Goodwill is the value of a business above the value of its tangible and intangible assets. If you do good, goodwill will remain the same or increase, and your reputation holds. While goodwill can't exactly be 'ruined', it can be damaged. A cybersecurity breach resulting in the release of customers' private information is one way to lose goodwill and damage your reputation. A good place to start is putting cybersecurity practices in place that prevent the loss or theft of data. Another step is to provide staff training and development in areas that could impact goodwill, such as customer service. From hacks to product recalls, anything with the potential to cast a negative light on your company, in the news or community, can lower your goodwill. Insurance can cover the financial losses resulting from these circumstances, but it can't reverse the loss of goodwill. Find out more in What Is Goodwill?
Eyes on the market
Australia is a nation built on small business. Competition is a big part of being in business. There's a reason the most competitive industries are generally the best performing, with one feeding into the other.
Healthy competition is great, so long as you're keeping your business in good health. Scan the market and develop new products and services while you're at it. Conduct market research to find out what current and potential customers want. Protect your intellectual property, including registering trademarks, designs and patents.
Going beyond, if your business sells discretionary products or services, a downturn can have a big impact on your sales and revenue. Inflation and interest rates, while 'lower for longer' is the going mantra, can also sneak up on you and catch you off guard. Conditions change, and even when you're keeping up with consumer and economic trends, testing the market with new products and concepts, you can be blindsided. If you import or export products or services, keep across changes in exchange rates and tariffs. Most important, take some risk off the table and hold enough cash so you can chug along if you fall on tough times (there may be the option for a business loan, too).
How to prioritise risk management
This has been a pretty solid rundown on risk management, so you'd be forgiven for feeling a little overwhelmed. One simple trick to prioritise risk management actions is to create a risk matrix which shows you exactly where to focus your energies.
First, categorise each item according to its probability:
Definite

Likely

Occasional

Seldom

Unlikely
Then, categorise each item according to its impact:
Catastrophic

Critical

Moderate

Marginal

Insignificant.
Once you have categorised factors according to likelihood and impact, you can place them on a risk assessment matrix like this one: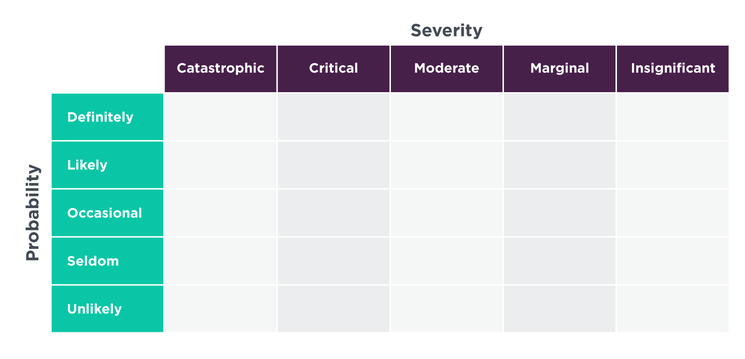 The items in the upper left of the matrix – with a high probability and a large negative impact – should be acted upon first. The items in the lower left of the matrix have a lower likelihood of occurring and a smaller impact on the business. For this reason, these factors should be looked at after the more critical ones have been dealt with.