After six years in business, Mid Life Cycles outgrew its shop and needed a bigger and better premises. Providing a memorable and pleasurable experience for customers has always been a core focus for director Michael Catchpole. And once he found the right location, nestled in Cremorne, Melbourne, he was ready to get building, but it was a rough ride.
The full catastrophe
"We found an old warehouse that we planned to develop into a multi-use space. Our planning permits were delayed, which had a negative knock-on effect. It delayed the fit out, which meant we couldn't find subtenants, which put a large financial burden on the business during the critical start-up period of the business."
A cold opening
Despite his best efforts, the project was stressful and crunched their cash flow. Fortunately for customers, there was no turning back and they had to finish the fit out, which realised Michael's dream for a memorable experience. But if he knew then what he knows now, we wouldn't be so lucky.
"I wish I knew more about the challenges of the fit out, planning permits and reams of paper required to repurpose premises. Knowing the time and financial cost, I wouldn't take on a project like that again. We were due to open in late summer but delays in the build pushed that back into the mid-winter offseason."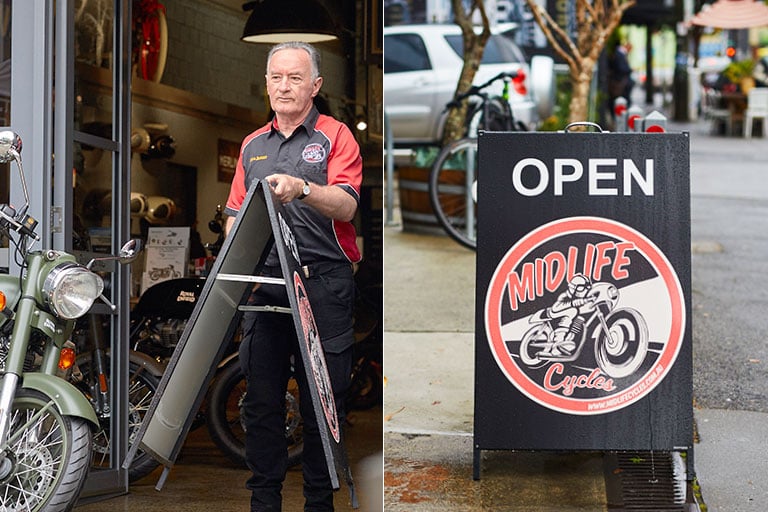 Rallying, recovering, rolling on
The stalled fit out had a double negative effect on the business. They missed out on peak season sales and opened in the quietest time of the year, and they missed out on potential rent from subtenants. Fortunately, they overcame the setbacks and it's full throttle growth for Mid Life Cycles and their subtenants.
"So not only were we delayed in opening, the fit-out was delayed so we missed potential rent from our subtenants, during the quietest sales period of the year at a critical growth period for the business. We overcame this challenge by finding some brilliant subtenants, and attempting to complete the fit out as quickly as possible without sacrificing the quality. We wanted to get a certain quality of tenant in and knew if we rushed the job that would jeopardise that. So we finished the fit out as quickly as possible, and now we share the warehouse with an excellent pasta restaurant and a gym."
See how Mid Life Cycles and how they turbocharged their business growth in their Good Business Spotlight.