"Over time, you learn ways of doing things that make your job more efficient, and mean you don't need to spend as long working on the tools or doing the books so that you can achieve that work-life balance."
Founded in 2012, Melbourne Paving is a commercial paving company that imports, supplies and installs all types of pre-cast concrete and natural stone pavers. They work for a range of builders, councils, civic companies and even occasionally on smaller residential properties.
Nick and James moved away from residential landscaping and into the commercial space because they loved the industry and they were excited for the challenge of building a successful business from the ground up.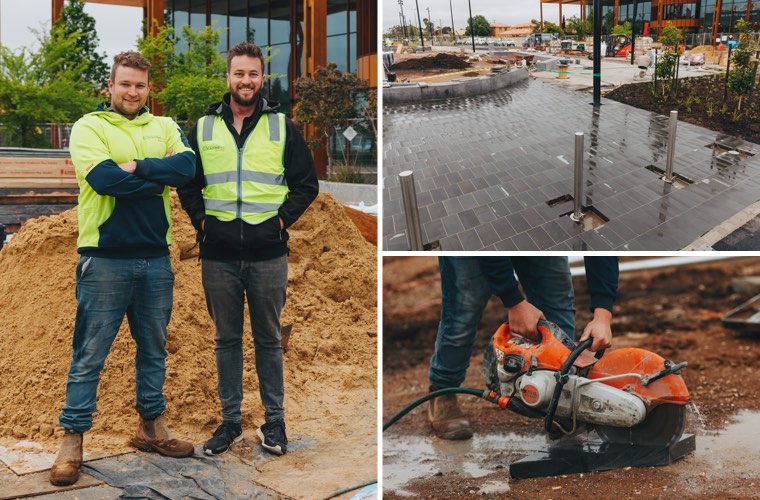 Melbourne Paving employs all-natural stone in all of their jobs, importing high-quality product from some of the best international natural stone suppliers. Nick and James make sure they oversee every part of the process, from visiting suppliers and inspecting quarries to overseeing the stone being cut out of the ground.
"15 years ago you would have to pay a premium for natural stone, but these days it can even be more affordable than pre-cast concrete pavers. Both have their limitations but typically natural stone wears better, is easier to work with, and comes in a range of finishes that will suit almost any application," says James.
The functional component of natural stone paving is a little easier than the aesthetic one, especially when dealing with stone that can be inconsistent, reactive and subject to all kinds of conditions. Because of this, they have to take great care that their stone is cut properly.
It's because of this that Nick and James place great importance on their team, from apprentices to team leaders. They see their people as being one of the most important parts of their business and take great care in selecting and training the right people for their team.
"Our team leaders are vital to the running of our projects but I would say that selecting the right apprentice is more important. You're choosing someone who could be part of the business for much longer than the term of their apprenticeship and you need to be certain that they will develop with all the tools to successfully run their own projects at the end of their term. We invest a lot of time and money in selecting the right people and providing ongoing training," says Nick.
Like all good business owners, Nick and James are constantly assessing every aspect of their business to then learn and build from it. A couple of years ago they were on track to double their turnover from the previous financial year but by the end of the year, they saw less profit than the year prior.
"After a couple of months of monitoring we realised we were losing out on labour, there was no link or accountability between quoting and implementation. By providing the staff onsite with specific timeframes as well as diaries to document progress, we were able to not only hit targets but also identified many areas where our pricing was out. We learnt that constant monitoring of each project is vital to our success moving forward," says Nick.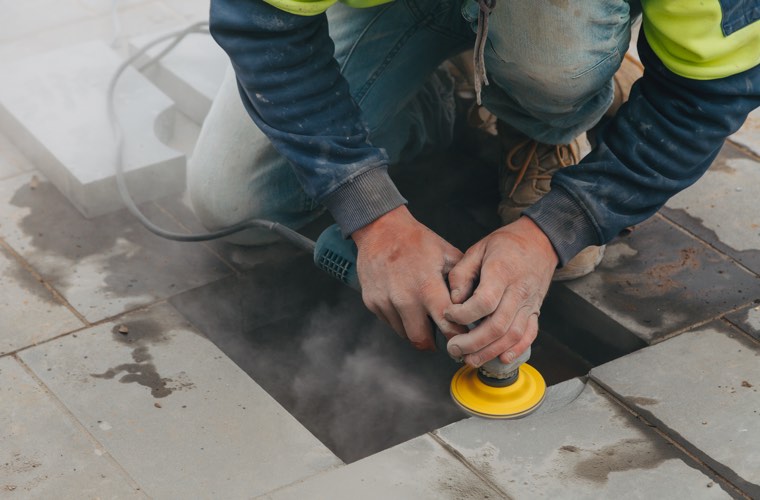 Nick and James utilise social media to grow their reach and keep an eye on industry trends. They have their own website, as well as a Melbourne Paving Instagram feed that they use as both a way to share their projects and acquire new business.
"We have made some good contacts through Instagram – it's also a good platform to see what other contractors are doing in the industry. It's essentially free advertising and can be targeted toward a specific market, such a valuable and cost-effective tool for businesses these days," says James.
On top of this, Melbourne Paving has also featured on a season of The Block as well as the Melbourne Flower and Garden show. Although they don't directly target these kinds of private jobs anymore, the experiences were still very valuable and enjoyable for them.
"Both were great experiences but at the same time very stressful! Trying to produce your best work in such a short period of time is challenging and daunting, especially knowing that so many people will view it. We made some really good contacts from both, even though this type of work isn't so relevant now that we are targeting the commercial market," says Nick.
For Nick and James, the primary motivator for running their own business and being their own boss is the flexibility that comes with it. Although business ownership can be very time demanding at times, they have created a manageable work/life balance and make sure that they have time away from work.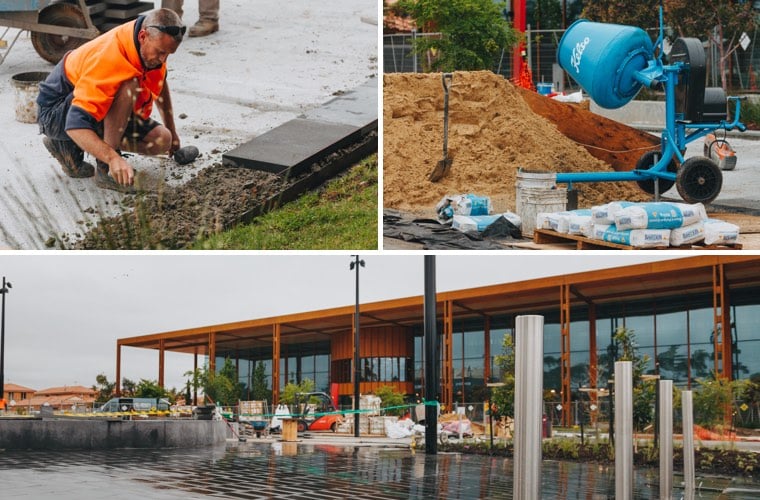 "It can be a 24/7 job if you are getting phone calls/emails 24/7. We put our phones on silent after 5 pm and avoid checking emails late at night. We're both pretty active and enjoy motorbike riding, boxing and try to get away for the weekend when possible to recharge the batteries," says James.
When they first started out, the guys were very time-poor. They worked long hours and spent time not only honing their craft but developing other skills essential to running a business. They looked for tools and techniques to improve efficiencies and streamline processes.
"When we first started out we worked long hours and wasted a lot of time trying to balance the books, advertise and learn other skills, outside of the trade, that are essential in running a business. Some amazing products have come onto the market over the past five or so years that have made these tasks so much easier and more streamlined," says James.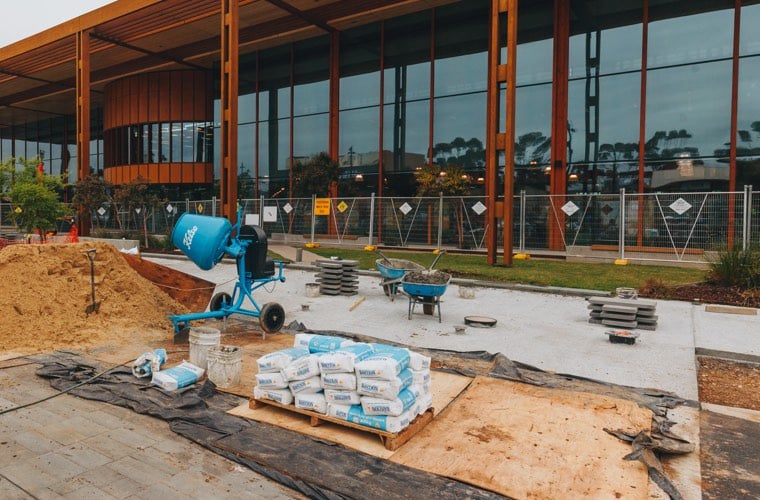 "Xero has been a great investment for us, it links with your bank account and automatically reconciles your expenses, seamlessly turns quotes into invoices and can generate a range of reports so you can get an accurate snapshot of where you are at any time of the month. This product alone has saved us countless hours," continues Nick.
Like most all business owners, Nick and James have learnt a lot since they started – but much of it was learnt through trial and error. There were many things they wished they knew before they started, but for them, planning was a huge part of building their business.
"I wish I knew more about tax. It's very easy to get caught up in all the profits you are making without considering the different types of tax you have to charge, pay, and handball to the ATO. It's very easy to get deep into tax debt if you don't know what you are doing," says James.