In his first five minutes of trade, having only sold three sandwiches, Garrett Huston smashed the door on one of his restaurant's refrigerators, showering glass over all the day's stock. The opening day of Mason Dixon ended in anything but triumph. But day two was far more successful and now, almost four years later, they have two locations in Melbourne's CBD with plans for further expansion.
Named for the American state line between Pennsylvania and Maryland, Mason Dixon is an American deli-style sandwich restaurant serving a unique mix of North and South American, and Australian inspired sandwiches. Mason Dixon was founded in 2014 with the goal of serving big, bold American flavours using authentic home-style ingredients.
Getting Back to his Foodie Roots
Before starting Mason Dixon, founder Garrett Huston worked in different sales and marketing jobs and as a chef before that.
"When I started Mason Dixon, I was going through a rough patch. I started to think sales wasn't for me, I was made redundant a couple of times and I thought, why not go back to my roots and get back into food. So I was looking for a spot and I had about four different concepts that I was going to do – all American based."
"I opened up with basically no backing, which in hindsight was not a great idea. But I was very lucky in the early days to get a bit of press in publications like The Age's Epicure. We went from selling 25 units one day to 200 the next with a line out the door."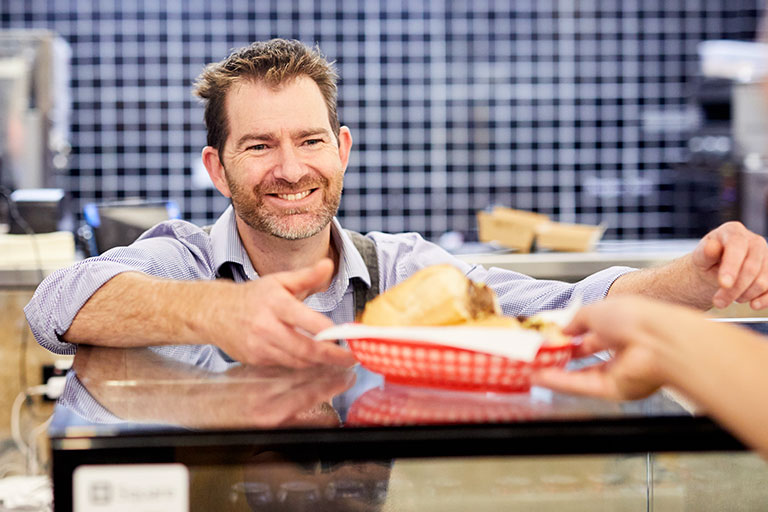 Sometimes You Don't Know What You Don't Know
One of the biggest challenges Garrett faced when he first started Mason Dixon was realising how much he didn't know about the technical side of running a business. He was financial savvy but didn't have any formal accounting education or experience running his own business. So, like many business owners, Garrett had to teach himself a completely new set of skills and find partners that could help him fill the gaps in his knowledge.
"My lack of formal financial acumen with things like accounting, admin, and taxes was a big obstacle at the beginning. I knew what they were but had no practical business understanding of them. I've found partners that are able to help and advise me on things like understanding cash flow and taxes and accounting."
"Even with all that, this is still the only job that I've ever really loved. I've liked other jobs and put up with other jobs, and I've worked other jobs that have paid me a lot more. But coming to work and making food and meeting new people every day beats them all."
A Lifelong Recipe for Happiness
For as long as he can remember Garrett had always wanted his own restaurant. Being able to make his own food and call it his own is still one of the primary motivators to run his own business.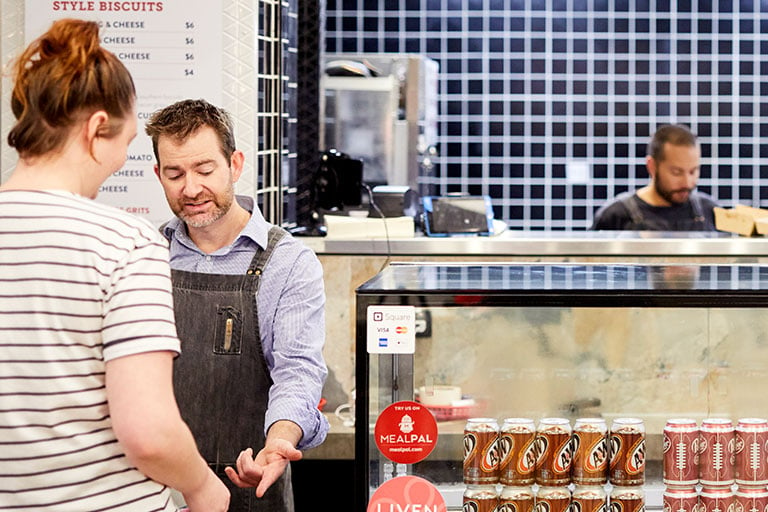 "On a very base level, I just don't take direction very well. But aside from that, I've always wanted to do this. When I was a chef I always wanted my own restaurant and for as long as I can remember I've always wanted to make food. I love being able to say 'this is ours and we built this together', and you can't really get that working in a big corporate business."
All of the sandwiches on Mason Dixon's menu are inspired by meals Garrett has eaten on his travels across the states. The sandwiches themselves originate from both North and South of the Mason Dixon.
"I was born in Boston and grew up in Georgia and so that's why we have such a range of sandwiches from either side of the line. We've got sandwiches like The Reuben, The Hoagie, and The Pastrami from up north. Then we have sandwiches like The Cubano from Florida, where a lot of my family live now, and pulled pork a lot like the ones I used to get in Georgia."
Time Honoured Classics with an Aussie Twist
When thinking about what items will make up his menu, Garrett draws from a wealth of experience tasting sandwiches from across America and Australia. As a result, the sandwiches on Mason Dixon's menu aren't quite like anything you could find in either country.
"We try and keep everything as authentic as possible. For example, the pickles we use are Vlasic Pickles, which are an American brand of pickles you can find in Australia. The sauerkraut is Polish – we don't make it ourselves but we had to hunt around to find a local one that was just cabbage and salt and didn't have any extras."
Mason Dixon's menu has grown quite a bit since Garrett first started in 2014. And even though a lot of clientele aren't familiar with some of their offerings, it's all part of Mason Dixon's belief in serving up authentic American deli-style food.
"In our Bourke Street store, we have onion rings with Furphy's beer batter and biscuits and gravy that we make from scratch. We also have cheese and bacon grits, which we don't sell a lot of at all, but we keep it on the menu because there will be that one customer from Georgia that will find us and crave it!"
#MasonDixonAU
The goodwill and positive feedback lends itself well to social media, which has been a huge tool for growing Mason Dixon, however, it actually took Garrett a little while to get his business across the platforms. He now uses Instagram and Facebook to advertise his business and keep engaged with his customers.
"Social media was huge for us. I was actually a bit hesitant at first because I didn't really use social media myself, so it took a little while to get the business across it all. We've been on Instagram for only about a year now. We don't see a direct correlation between sales and posts, I don't think many people do, but having that social media is definitely a must."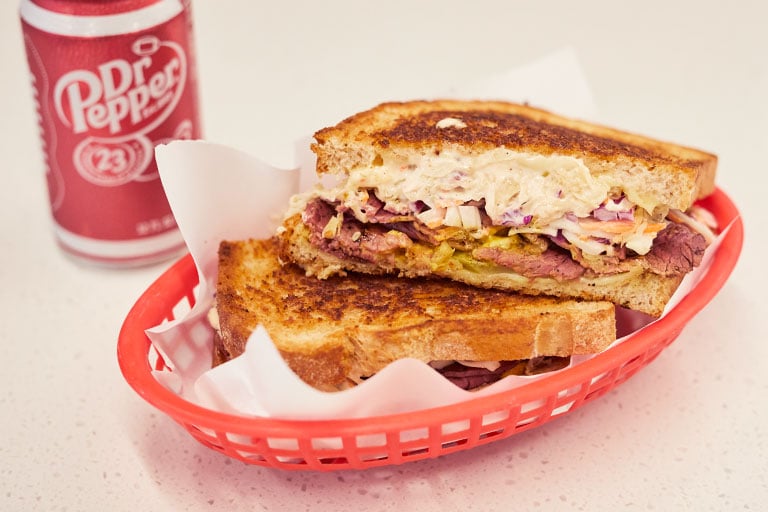 Wins and Lessons
Mason Dixon has won press in publications like the Age's Epicure and even made it into an edition of the Good Food Guide. Garrett and his staff are really proud of what they do and how they do it, and always make sure they're putting the customer at the centre of the experience.
"Getting a spot in the physical 'Good Food Guide' book was amazing. To be in the same book as some really amazing chefs and restaurants was really humbling. But one of the most rewarding things happens almost daily, and that's when someone new comes in and tells us how much they enjoyed their food. It's really cheesy but it's just so rewarding and there's even a kind of currency to it – it's something we never get tired of hearing."
Garrett found that he had a lot of success early on and admits that he probably didn't make the most of reinvesting the time and capital back into his business at the start. Now he finds he's playing catch up and is even more time-poor than when he started. Despite this, Garrett still makes sure he has time to switch off and be with his family.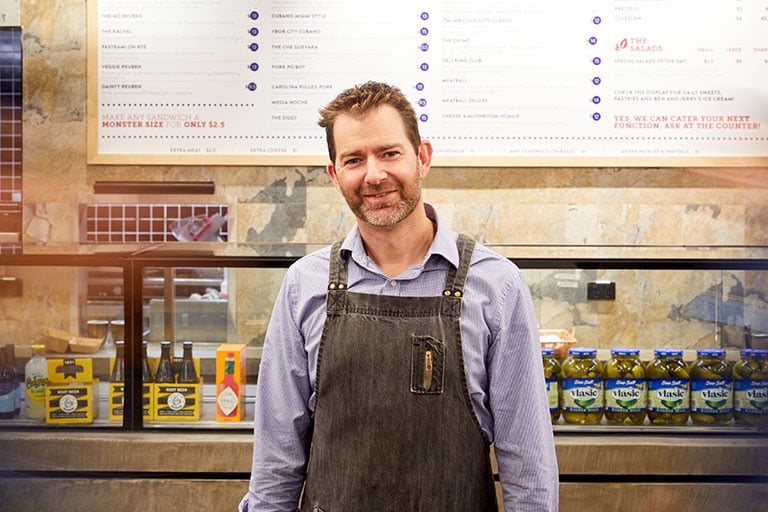 "At the beginning, I was so busy that I could just put on staff and leave it running. In hindsight, I probably should have used that time to really get everything set up properly and have the foundations in place to set up another location. When I opened this second shop it just added so much extra work. I still find time to stay home with my daughter on Wednesdays but aside from that, I'm often putting in 18-hour days. So I'm really making up for all that extra time I had when we first started!"
"When I do get time off I make sure I switch off as much as I can. On Wednesdays when I'm with my daughter I make sure that's my focus. I make time for my family and I like to read and listen to podcasts. I also find getting outside and being active is a good outlet so I love to hike and climb and that sort of thing."
Future Plans
Now Garrett is looking to make up for lost time and planning the future of Mason Dixon. He has short and long-term plans that involve consolidating his branding and expanding Mason Dixon to more locations.
"Short term I want to consolidate and focus, to tidy up a lot of our systems. I want to revisit our branding and really nail that down and make sure all the shops we have, are running like clockwork. Once I've built those foundations, I'd look to expand. I'd like to keep this store we have here and then have two or three more suburban locations with some really solid management and a team that loves what they do. Eventually I'd love to be able to float between them and not have to always be on the tools…  and not be stressed – I can dream!"