One of the best things a brand or business can do is join a public review platform, like TrustPilot or Yelp. This essentially puts power in the hands of your customers and while many brands may be afraid of displaying bad reviews and scaring off potential customers, bad reviews don't always mean bad publicity. By putting your all your reviews out there, your business is essentially gaining transparency.
We're going to run through why bad reviews don't always mean bad business, how you can leverage these negative reviews and how to manage online feedback:
The Good, The Bad, The Ugly
You can't please everyone and it's important not to get wrapped up in negative feedback. The truth is anyone who has a business will have had to deal with at least a couple of bad reviews; the important thing is how you handle them.
Negative reviews don't equal bad business. More than likely, the bad review came because of a mismatch in expectations or just a bad day for the reviewer (or the business). Bad reviews can actually have some pretty great side effects.
BrightLocal Customer Review Survey
Bad reviews make good reviews look better. It's impossible to have entirely 5-star reviews and it can look artificial or manufactured when businesses have an untarnished 5-star average. By having a near-perfect review average rather than a perfect one, your customer feedback looks more authentic. A study done by the Harvard Business School found that 95 percent of consumers believe that entirely positive feedback is fake or company-screened. The majority of consumers trust businesses more if they have a mix of good and bad reviews.
Bad Reviews Can Actually Add Value

Bad reviews can also give potential customers a more realistic view of what they can expect from your product or service, from real customers rather than your marketing team. Most negative reviews aren't written because the product was bad, but rather because expectations weren't met. This is where you can get real value and insights directly from customers' constructive feedback.
For example, let's say a customer reviews an online clothes retailer saying they loved a shirt but it was too small. A review like this is pretty common, where a customer loved the product or service but only had one or two minor problems with the overall experience. These reviews aren't entirely negative and can actually add a lot of value for both you and your customers. It lets other shoppers know that they may need to order a larger size and it could let you know that you may need to add a size guide to your online store.
In e-commerce especially, the majority of consumers research a product before they purchase and having a story in your reviews adds real feedback and insight.
More importantly, however, having a review mechanism is a great way to collect honest feedback and get a real idea of what the problems with your product or service are. Friends and family will always give you a biased picture, but your customers will be able to tell you exactly what's wrong. If you value that feedback and listen to customers, a negative review can actually be the best way to find out what you need to improve.
Is There Such a Thing as Bad Publicity?
The old saying probably isn't true 100% of the time, but there are some cases where you can definitely turn bad publicity into good publicity! Negative reviews can create buzz around your brand, increase product awareness and ultimately lead to more traffic and sales.
Californian Pizzeria, Botto Bistro, is the perfect example of using negative reviews to increase profits and brand awareness. To combat negative reviews, Botto Bistro offers discounts to customers who write them bad reviews on Yelp. The effects have been hugely positive (and hilarious), earning them tons of publicity and the name 'Yelp's worst-reviewed pizzeria".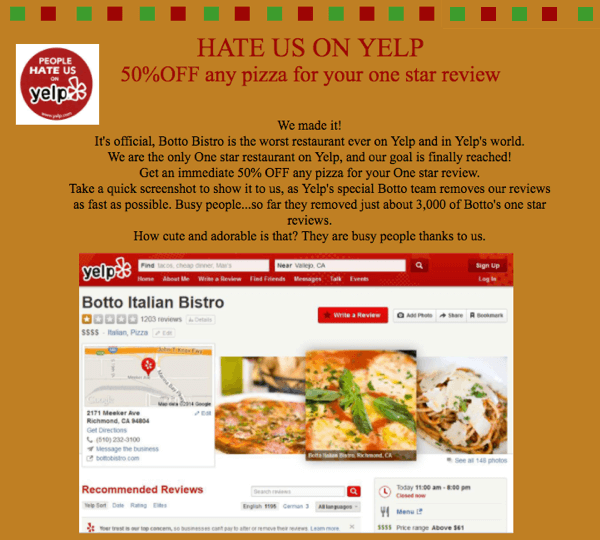 Botto Bistro has received such a positive response from their negative reviews that Yelp is actually removing all of their 1-star reviews from their site!
However, there are certain types of publicity which no business wants to receive. There have been many stories of reviews going viral, which have resulted in public naming and shaming of businesses. What's the best way to handle that kind of unwanted attention?
Step by Step
1. Don't Panic
Don't respond impulsively. Your first reaction may be to defend your product, employees or brand but you could end up doing more harm than good. Take a minute to analyze the comment, even check if you have any record of the customer and their experience or if they dealt with one of your staff, see if that staff member remembers them. This way you can validate that their complaint is genuine and handle it appropriately. Always see if you can add value to the comment before you respond.
2. Publish Your Bad Review
Don't Delete. Deleting negative reviews or comments should always be a last resort. (The exception may be on social media, where admittedly, there are a lot of people who are just out to start an argument). Publishing ALL your reviews on site shows that you have nothing to hide and will make consumers trust your positive reviews even more.
3. Respond to Negative Reviews Publicly
Most people will read the bad reviews before the good ones and they will be able to see through any illogically bad reviews. By having a public response on your reviews, it shows that your business cares about both its customers and its product. Always remember to remain professional and polite in your responses and keep any anger to yourself. A friendly, approachable, and down-to-earth reply will show customers that there's a caring human face behind the business and that you're someone who cares about the customer experience.
4. Learn From Negative Product or Business Feedback
Some reviews might actually have hidden gems of insight into how you can improve your product or service. Ignoring negative reviews can be like ignoring constructive criticism. Looking at what exactly a customer is complaining about could help you refine your business and make the experience better for future customers. This could be as simple as updating content and information on your website or as drastic as changing payment processes or sales services.
5. Follow-Up
Don't let your responses be empty promises. Follow up and ensure that your customer is happy with the resolution. Keep in mind that while you can't please everyone, people will notice and be grateful that you're even trying.
How to Manage Online Reviews
The vast majority of all online reviews are positive, so you probably won't have to deal with bad reviews too often. However, you should still have some processes in place to deal with them when they do roll around.
Get more reviews. The best way to combat a few negative reviews is to put them in the mix with even more positive reviews. Advertise your reviews, both good and bad. Make sure any review sites are linked to your own website and encourage your customers to review your product. Be careful with incentivizing reviews as this can be seen as paying for reviews and goes against many sites' best practices.
Finally, get Google Alerts to track any mention of your business on the web. This was you can stay on top of any reviews that may fall outside your normal platforms and alert you to any mention of your business that may not be contextual to your industry.