Let me explain my thoughts further. Last year, I attended the annual "Inbound" marketing conference in Boston. Marketing software company, HubSpot, co-founder Brian Halligan was one of the speakers. Not only is Brian Halligan CEO and Co-Founder of HubSpot, a business that helps businesses transform the way they market their products, he also teaches Entrepreneurial Product Development and Marketing, is author of two books and was an Ernst & Young Entrepreneur Of The Year Award recipient.
Plain and simple, this is guy is marketing Yoda. The one thing that he mentioned that really stood out, more than anything else, was that to make social media work for business, people have to get committed – stop pitching and start engaging more. So, in no specific order, here are five quick and easy tips to start using social media to grow your small business faster.
Having a presence on the major social media channels, such as Facebook, Twitter, Instagram, LinkedIn and Google+, is important. However, being actively involved on all of them is just unrealistic – especially if you want it to have a major impact on your business and, more importantly, help your customers. So, start getting smart. Choose the social media channel that you enjoy using the most, and then go for it in a major way. This doesn't mean that you won't use the other channels; it just means that this one channel will become your focus.
For me, it's Facebook. I like it because firstly, with 1.3 billion active users, it's probably a good bet that your customers (and potential customers) are on there. Secondly, most people already have an established network that can be used for marketing efforts. And Facebook is still taking the lead in driving social traffic to most business blogs and websites.
2. Resist the Urge to Automate
When you put automation and social media together in the same sentence, you'll usually get a mixed response along the lines of: "I love automation, let's automate everything!" or… "I love authentic communication, so let's automate nothing!" The correct answer should lie somewhere in between. Personally, I hate tools that try to automate social media engagement. While it's convenient, if your posts appear too automated or more like a constant sales pitch, your efforts could actually drive your audience away. Software that lets you post to multiple sites at once can be a good way to get your business message out to a wider audience, but automating your social media strategy further can be counter productive. The reason social media is so effective is because of its human touch – lose that and you could just be wasting your time.
3. Get a Social Media Calendar
Sometimes you'll see large companies churning out social media posts very quickly. Oreo, a company known for their solid Twitter presence, sent out this genius tweet during the American Super Bowl moments after the power went out: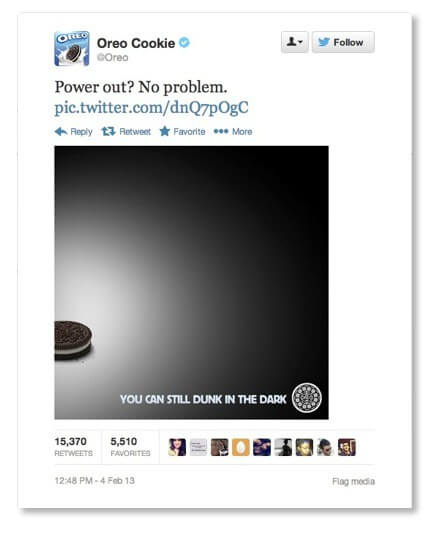 But for every genius, quick-witted, real-time tweet like this one, there are hundreds more that take hours of planning and a lot of creative power to develop. This is why it helps to have a social media calendar. The purpose is to post something different and engaging at least 2 to 3 times a week. It can include things like: useful resources, video clips, links to your blog, questions and quotes. With a little planning, you can have a presence and be engaging in a non-spammy / sales-pitchy way. So, get creative and plan your social media schedule at least a week in advance.
4. Aim for Compelling Content
By compelling content, you need to control your desire to sell through it. The focus of your content should be to provide valuable insights to your customers so that they can make better purchase decisions. What you're looking to post is content that will inspire readers to respond and share. The great thing about social media is that it can indirectly drive sales. First, find out who your customers are, what they like to talk about and what interests them. What is it that customers and prospects like about your business? It could be expert knowledge or shared interests or something else entirely. Whatever it is, align it and capitalize on it.
5. Make the Conversation Interactive
Even if your content is great, sometimes you still need to give readers that extra nudge to respond. Post questions for them to answer, or conduct surveys. Offer giveaways for those who respond to questions, participate in your surveys, or post product reviews. Even if it's just a small discount or free shipping – social media customers love freebies!