Business investment stifled by lack of cash flow
Invoice payment terms are an important aspect of accounts receivable for SMEs. Moula surveyed 500 SME owners across Australia and found that 49% of these businesses would spend more on business purchases if they had additional funds and 47% of SMEs refrain from investing in their business when they lack cash.
Late payments impact merchant cash flow
Although nearly 60% of merchants offer invoice payment terms to their customers, over 35% of their SME customers pay later than the invoice date, regardless of their payment terms. Businesses that sell products or services to other businesses offer invoice payment terms for a number of reasons:
21% say it enables them to sell more

30% offer it because their competitors do

34% believe it's an important selling proposition

47% offer it because their customers expect it. 
While there are good reasons for offering invoice payment terms to business customers, 63% of SMEs said their cash flow was negatively affected by late payments. In addition to affecting cash flow, offering payment terms adds to administrative costs. Among the respondents offering payment terms, 31% used an external agency and 65% have a credit officer to manage the credit function. When customers go too far beyond the due date, using an outside debt collection agencies can be expensive, as they charge a percentage for the funds they recover.
Number of Days After Invoice Date Payments Are Made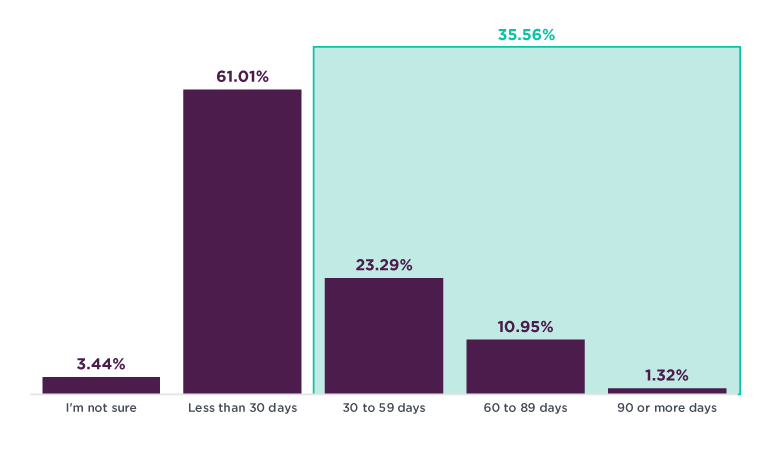 SME owners open to alternatives to invoice payment terms in Australia
On the buyer side of transactions, SME owners are willing to consider a range of solutions to get the products and services they need to grow. The research revealed that:
67% of SMEs believe invoice payment terms from vendors are helpful in managing their cash flow
64% of SMEs would prefer to pay for large business purchases over 12 monthly instalments
57% of SMEs would consider a 'buy now, pay later' product for business purchases and 47% believe this finance option would be helpful for managing cash flow.
Moula Pay solves cash flow challenges of invoice payment terms for sellers
The common denominator for both sides of business-to-business transactions is a lack of cash flow. While SMEs want to purchase stock, equipment or supplies, services and/or materials to grow, a lack of funding hinders these efforts. At the same time, business owners who offer payment terms often experience cash flow problems as a result receiving money long after payment is due.
Moula Pay brings buyers and sellers together for good business
Moula Pay creates a win-win situation in business-to-business transactions. Businesses (that have met Moula Pay approval criteria) can access up to $250,000 to fund business purchases. They can use the funds to purchases of goods and services and get up to three months credit with no interest, fees or repayments required and the option to extend the repayment period if needed. 
Businesses that become Moula Pay merchants no longer have to go through the credit approval process with their customers or get stressed over late payments. When a purchase is made through Moula Pay, the merchant receives the funds within 24 hours. Moula Pay makes it possible for merchants to sell more without having to worry about granting invoice payment terms or chasing late payments. In effect, they can outsource their credit management function. At the same time, businesses using Moula Pay get access to the funds they need to purchase products or services. 
How does Moula Pay work?
Here are a few hypothetical examples of how Moula pay can bring merchants and buyers together for good business.
Moula Pay to solves cash flow challenges for buyers and sellers without invoice payment terms
Mario runs a company that imports and sells home and giftware to retail shops across Australia. His business offers invoice payment terms to hundreds of businesses that purchase from him. In addition to the time required to approve and manage these accounts, around 30% of customers take longer than 30 days to pay outstanding balances. He needs to offer payment terms to his customers because his competitors do and his customers expect it. In addition, many of the retail shops he sells to rely on payment terms to free up their cash flow. Looking for an alternative to offering payment terms, Mario learns about Moula Pay and signs up as a merchant to offer the service to his customers. 
Kristy owns a home and giftware shop and needs to stock up with merchandise before the busy Christmas season. She wants to place a large order with Mario's business in October to get ready for the busy shopping season. Coming out of a slower time of year, she won't have the cash flow to pay the invoice in 30 days. She sees that Mario offers Moula Pay as a way to finance purchases. Kristy completes a simple online application and is approved for the amount she needs. During the busy season, she sells the merchandise and is able to pay off the amount owed to Moula pay within the first three months. Having paid the balance within three months, Kristy pays no interest on the amount. If needed, she has an additional nine months to pay. 
Mario is happy because he gets paid immediately for Moula Pay transactions. This way he avoids the invoicing process and wait a number of days for the invoice to be paid. In addition, by outsourcing his credit management function, his company no longer needs to manage the credit approval process and follow up when payments are overdue.
Moula Pay eliminates invoice payment terms to overcome cash flow hurdles
Anne owns a construction company that has won a tender to supply and install natural stone tiles in a hotel under construction. It will take three months to complete the project before she can submit an invoice. In the meantime, she needs to source a large number of stone tiles to complete the project. 
Vivek owns a business that supplies natural stone tiles to the construction industry. As a Moula Pay merchant, he is able to offer his customers a simple solution to free up their cash flow. Anne finds that Vivek has suitable tiles and quantity available, so she places an order using Moula Pay. With no payments and interest for the first three months, Anne does not have to worry about raising the cash to pay for the material. After three months, when the project is completed, she invoices her customer. The invoice is paid within 30 days and she pays off the amount owed for the materials to Moula Pay. With an interest-free period of three months, Anne only pays interest on the amount for one month. 
In this situation, Moula Pay solves cash flow problems for both the buyer and seller. Vivek doesn't have to provide invoice payment terms and worry about getting paid on time. In addition, Anne is able to get the material she needs to complete her project without the cash flow pressures that most businesses face.
Learn more about the benefits that Moula Pay offers to SME merchants and purchasers.